This is an archived article and the information in the article may be outdated. Please look at the time stamp on the story to see when it was last updated.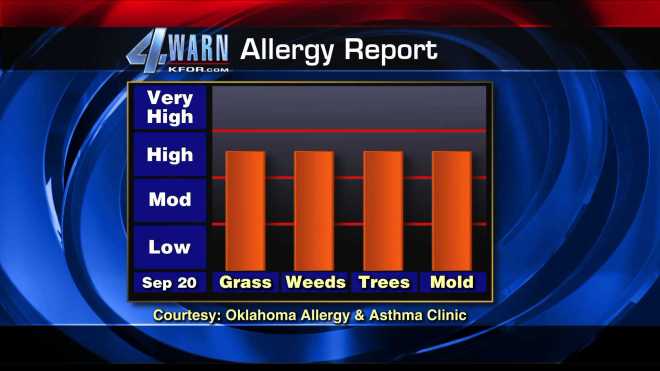 OKLAHOMA CITY – Bad news for allergy sufferers this weekend.
Grass, weeds, trees and mold are ALL in the high category, according to the Oklahoma Allergy and Asthma Clinic.
It's probably no surprise to those sniffling and sneezing that our state ranks 10th in the nation for allergens.
The new study blames Amaranth, Goosefoot, Marsh Elder, Plantain and the well-known culprit ragweed for all the symptoms.
Eight of the top 10 cities are in the south.
But there is a silver lining; Oklahoma City also has a higher than average number of allergists to treat those who are suffering.
Sneeziest Cities in the U.S.
1.   Wichita, Kan.
2.   Jackson, Miss.
3.   Knoxville, Tenn.
4.   Louisville, Ky.
5.   Memphis, Tenn.
6.   McAllen, Texas
7.   Baton Rouge, La.
8.   Dayton, Ohio
9.   Chattanooga, Tenn.
10. Oklahoma City, Okla.
11. New Orleans
12. Madison, Wis.
13. Omaha, Neb.
14. Little Rock, Ark.
15. Tulsa, Okla.