This is an archived article and the information in the article may be outdated. Please look at the time stamp on the story to see when it was last updated.
ST. JOSEPH COUNTY, Ind. – For years, Kermit the Frog has gone on record saying, "It's not easy being green."
Now one Indiana woman said she will be staying away from anything green for quite a while after finding a small toad inside a can of Meijer green beans.
Gloria Chubb was making dinner for her family.
"It was meatloaf, mashed potatoes, gravy and green beans," she said.
Then her son noticed something unusual in his green beans.
"My son put some on his plate and said, 'What is that?' I thought maybe it was a piece of moldy bacon or something because they have bacon in them sometimes," Chubb said.
"And I took it out of there and it wasn't moldy bacon," she said. "It was a toad with parts of his little legs all in the green beans. Other than that he was fully intact."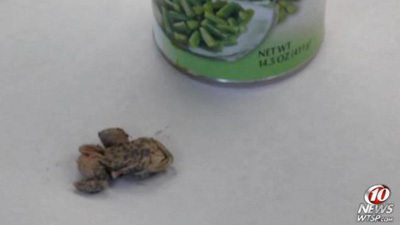 Alarmed, she took the can of beans and the remains of the toad to the Indiana State Department of Health.
Health officials determined the toad had been processed along with the beans at a canning plant in Wisconsin.
"When the green beans were picked from the field, it was also placed on a conveyor line and just was accidentally put into the can of green beans during process," Rita Hooten said, St. Joseph County Health Department food service director.
Chubb said the mere thought of the cooked amphibian made her feel nauseated for a couple of days.
"We eat a lot of green beans, we do, we did," she said. "Nobody wants to anymore now. I don't know how they didn't see it. I wonder if it's the only one."
Health officials said finding an unwanted surprise in canned vegetables happens every once in a while. 
The most common things found are toads, mice and grasshoppers.
"I think they should come up with a better way of inspecting and canning vegetables," Chubb said. "I mean anything can happen you know  but a whole frog?"