This is an archived article and the information in the article may be outdated. Please look at the time stamp on the story to see when it was last updated.
OKLAHOMA CITY – Severe weather came through the metro Tuesday evening bringing widespread flooding.
The Oklahoma City Fire Department responded to dozens of calls to cars stuck in water, fires, and more.
10 cars stuck in high water on N. Penn between NW. 10th and NW. 12th Streets. AVOID THIS AREA AND DON'T DRIVE INTO WATER!!

— Oklahoma City Fire (@OKCFD) August 23, 2017
House Fire: 9100 block SW. 30th. Caller says "whole house on fire…everyone getting out."

— Oklahoma City Fire (@OKCFD) August 23, 2017
NE 30th / Prospect. Two cars reported to be in high water with people inside. OKCFD enroute.

— Oklahoma City Fire (@OKCFD) August 23, 2017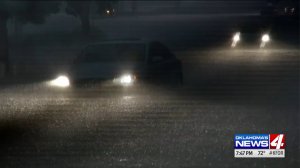 Thousands of people are also without power due to the storms.
Crews are working to restore power.
Remember: It is always best to turn around, don't drown when flooding is occurring.
***Due to a lightning strike hitting one of our main dishes, NBC Programming that was moved to KAUT 43, did not fully air. America's Got Talent live show episode that aired Tuesday night will re-air sometime this week. Once we know what day, we will let viewers know as soon as possible.