This is an archived article and the information in the article may be outdated. Please look at the time stamp on the story to see when it was last updated.
CHICKASHA, Okla. – Thunderstorms rolled across the state Tuesday bringing high winds, heavy rainfall and flooding.
Areas in and near Chickasha got the brunt of the storm.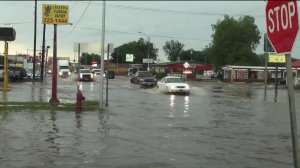 As the storm came through, there were numerous reports of wind damage.
At the airport, winds were measured at 60 miles per hour.
Power poles were reported down in some areas.
Pole down 4 S of Chickasha on 81 @ S 16th. If in path of storm take cover do not drive into high water. @kfor @NWSNorman pic.twitter.com/G4L111Vklk

— Marc Dillard (@F5Video) May 15, 2018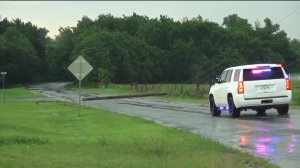 The roof was blown off of CG's 'GitNSplit' on OK19, just south of Chickasha.
Roof blown off CGs "GitNSpit" on OK19 S of Chickasha. Cars tangled in high lines 2 SE of Chickasha. And many roads flooded as storm passed. @kfor @NWSNorman pic.twitter.com/v0fkZsk8Sv

— Marc Dillard (@F5Video) May 15, 2018
Heavy rainfall brought flooding, causing problems for drivers traveling through.
Officials always urge drivers to stay away from driving in high waters.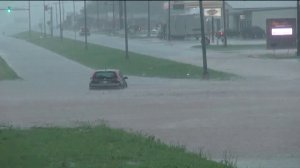 Two vehicles were also tangled in power lines near Country Club and Sooner on the southeast side of Chickasha.
Crews worked to get the power poles and lines off of the vehicles.
Thankfully, there have been no reports of any injuries.