This is an archived article and the information in the article may be outdated. Please look at the time stamp on the story to see when it was last updated.
OKLAHOMA CITY  – Oklahoma City police are searching for a man wanted in connection to a series of armed robberies.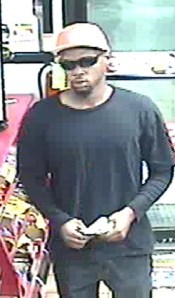 Police say the suspect has robbed three gas stations on the city's southeast side in less than a week.
Surveillance video shows the man wearing sunglasses and armed with a handgun.
According to Oklahoma City Police Department,  investigators are asking for the public's help identifying a man accused of robbing a convenience store clerk at gun point.
Surveillance video shows a black man walking up to the counter and purchasing what appears to be a pack of cigarettes.
Moments later, the man pulls out a gun and demands money from the clerk.
The clerk complies, giving the suspect an undisclosed amount of money.
If you recognize this man contact Crime Stoppers at (405) 235-7300.