This is an archived article and the information in the article may be outdated. Please look at the time stamp on the story to see when it was last updated.
OKLAHOMA CITY - Tens of thousands of Americans are up in arms about a federal government ban on an herbal stimulant they said has changed their life.
It's called Kratom, and faithful users are organizing around the country.
They said the U.S. Drug Enforcement Agency has stepped over the line, calling the plant dangerous and addictive.
America has a serious problem with drug addiction.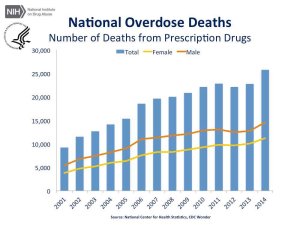 The CDC now labels the trend epidemic, as drug overdose deaths rise year after year.
Prescription pain pills and heroin are the top killers, stealing more lives than car crashes.
In America, drugs kill 50,000 people a year.
But, a growing number of opioid addicts and chronic pain patients are turning to a plant called Kratom to get off the pills.
"The first time I tried Kratom was the last time I took a pain pill. I'm proud to tell you," said Kratom user Wesley Todd in a recent YouTube post.
Native to Southeast Asia, in the same family as the coffee plant, Ratom, they said, is changing their lives.
"I say it all the time: it saved my life, Kratom saved my life," said Justeen Cosar of Midwest City, Oklahoma.
Cosar has fibromyalgia, carpal tunnel, degenerative discs in her back, nerve impingement, migraine headaches and depression.
She lives in constant, debilitating, excruciating pain.
"You feel like you can't go on," Cosar said. "I have to choose. I have to choose to go on."
Cosar has spent the better part of two decades on prescription painkillers, including darvocet, fentanyl, demerol, oxycontin, percocet, suboxone, lortab (vicodin, norco) and morphine.
She said she is not an addict.
Her lifelong cocktail of narcotics has always been prescribed by a doctor.
But, pharmaceutical relief comes with terrible side effects.
"I have had to change absolutely my entire lifestyle. Chronic pain effects everything that you do, your daily life, your relationships with yourself, with God, with others," Cosar said.
She heard about Kratom from a friend.
She buys dry-leaf powder online and then mixes it into tea in the mornings and capsules in the afternoons.
Her pain is gone.
Cosar is almost completely off pain medications, down 75 percent from what she used to take.
"This substance may be a better alternative. It might be the best alternative that we have at this point that mankind has to opiate addiction and for treatment for people who live with chronic pain."
Some said Kratom kills.
The DEA tracks overdose statistics.
They blame Kratom for more than a dozen deaths, including Denver resident Guy Garcia, 36.
His family believes he died from using Kratom.
The DEA cracked down.
In August, the DEA announced the agency would classify the herb as a schedule 1 controlled substance, in the company of heroin, LSD and ecstasy.
Those substances have no medical use and a high potential for abuse.
"Some people described literally like taking a fistful of pain pills. It sent them into a powerful relaxation. Their problems were over. Concerns are gone, a euphoric feeling," said Oklahoma Bureau of Narcotics spokesperson Mark Woodward.
The OBN considered a state-wide ban a few years ago.
But, the agency decided to wait, because there's been just one citizen complaint and Kratom hasn't been a major problem in Oklahoma.
"We held off, because we said we want to watch it. If this starts to become a problem, we would go back to our legislature and deal with it," Woodward said.
When the DEA announced an emergency federal ban, the Kratom world exploded with anger and frustration.
Kratom users united on social media.
They begged legislators to reason with the DEA.
"I plead with you guys," Todd said. "Please, keep Kratom legal in the United States."
"I am a fully functional member of society, and I am heartbroken (Kratom) is going to be taken away from us," said a YouTube poster who calls herself Kratom Hippie.
"If you're damn short-sighted enough to make something illegal that helps so many people, you really haven't thought it through," said a YouTube poster who calls himself carpo719.
Kratom found support in Congress when more than 50 lawmakers penned a letter to the agency to take a step back.
And, it worked.
The DEA backed off the ban.
READ: DEA withdrawal request for emergency ban
"In my mind, it's a little bit ridiculous, because a human being growing a plant and harvesting and using it for medicine is basically one of the most natural things we can do," said Oklahoma Libertarian Party member Dax Ewbank. "For the government to come and outlaw that is really absurd. To try and enforce that is even more absurd. Putting people in prison for that and punishing them for it it is really, cruelly absurd."
In Oklahoma, Kratom isn't that easy to find.
NewsChannel 4 found just one retailer in south Oklahoma City: Little house of Kratom.
Manager Blaine Nowak is watching the news for word about the ban.
He'll trash his stash if it goes into effect.
If it happens, he thinks his customers will go back to heroin or pain pills.
"Undoubtedly," Nowak said. "They will go back to their bad habits, because they can't get the thing that was helping them stay away from it."
The DEA is now asking for public input before deciding how to proceed.
Electronic comments: The Drug Enforcement Administration encourages all comments be submitted electronically through the Federal eRulemaking Portal, which provides the ability to type short comments directly into the comment field on the web page or attach a file for lengthier comments. Please, go to www.regulations.gov and follow the online instructions at that site for submitting comments. Upon completion of your submission, you will receive a Comment Tracking Number for your comment. Please, be aware submitted comments are not instantaneously available for public view.
Paper comments: Paper comments that duplicate the electronic submission are not necessary and are discouraged. Should you wish to mail a paper comment in lieu of an electronic comment, it should be sent via regular or express mail to: Drug Enforcement Administration, Attn: DEA Federal Register Representative/ODW, 8701 Morrissette Drive, Springfield, Virginia 22152.
DEA will consider all public comments received as well as FDA's scientific and medical evaluation and scheduling recommendation Kratom.