This is an archived article and the information in the article may be outdated. Please look at the time stamp on the story to see when it was last updated.
OKLAHOMA CITY - It was a fiery end to a police pursuit in northwest Oklahoma City Tuesday night.
The pursuit actually started at a pawn shop at N.W. Expressway and Rockwell when the shop owners contacted police about a man and woman selling stolen property.
When officers arrived, they arrested 48-year-old Dwight Eugene Tottress.
However,  the woman took off in a van, leading police on a pursuit all the way to N.W. 23rd St. and MacArthur.
That's where police set out stop sticks.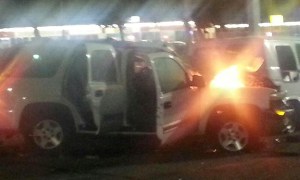 The suspect swerved to avoid them and went careening into the parking lot of a Carl's Jr.
"I see a whole bunch of smoke and then shortly after that I walk outside, freaked out," witness Jessica Graham said. "I'm like, 'what the hell's going on?'"
The suspect crashed into Graham's vehicle and John Mitchell's vehicle, sparking a fire.
"I'm screwed. That's my family vehicle. That's you know, how I go. That's my car, you know?" said Graham.
"The van went flying over, hit her truck, spun around and hit John's car and all of a sudden, the truck just goes up in flames," Kara Downs said, another Carl's Junior employee who witnessed the crash from the drive through window.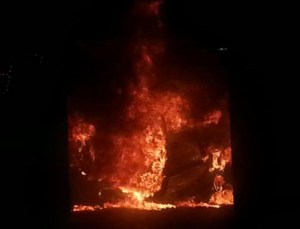 "I'm pretty much in shock right now" Mitchell said. "My car was my baby."
"The suspect did try to run from the scene," OKC police Lt. Issac Goodman said. "She got to the neighboring business before officers were able to get her in custody."
Police said speeds in the chase never reached more than 20 miles over the speed limit and the suspect was slowing down at intersections.
"Yeah, there could have been some significant injuries if those vehicles had been occupied but with our pursuit policy, we're constantly evaluating the risks involved in pursuit," Lt. Goodman said.
Both Graham and Mitchell have insurance on their vehicles.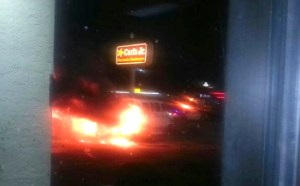 The unwitting victims of a high-speed police chase now have to figure out what to do from here.
"Get through here, go home, go to work, go to my other job in the morning and pray," Mitchell said.
The female suspect was later identified as 30-year-old Krystal Johnson .
Police said they believe the pair may have been selling stolen property before and that's why the pawn shop owners contacted police.
Tottress was arrested for providing false declaration to a pawn broker and receiving stolen property.
Johnson was charged with receiving and concealing stolen property, providing a false declaration to a pawn broken, attempting to elude police, leaving the scene of a non-injury accident and unauthorized use of a motor vehicle.