This is an archived article and the information in the article may be outdated. Please look at the time stamp on the story to see when it was last updated.
CANADIAN, Okla. - A fallen Oklahoma police officer who was killed in the line of duty was laid to rest on Friday.
On Sunday, Tecumseh Police Officer Justin Terney was shot several times following a foot pursuit with 36-year-old Byron Shepard.
Sadly, Terney died from his injuries on Monday morning.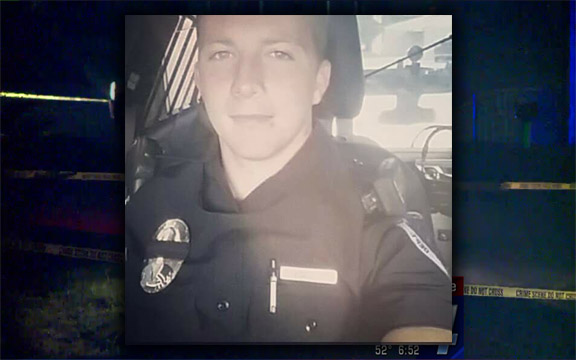 Pottawatomie County District Attorney Richard Smothermon described Terney as one of the most liked officers on the force, despite only being a rookie.
Terney was just 22-years-old and was in his first year with the Tecumseh Police Department.
Those who knew him say he wanted to become a K9 officer and was also a volunteer firefighter.
"This has probably been one of the toughest weeks of our lives here at the Tecumseh Police Department. Been an officer here for about 21 years, and this is the first time in my history to ever have to bury one of my brothers," Assistant Chief J.R. Kidney said.
Earlier this week, dozens of law enforcement officers escorted Terney's body from the medical examiner's office to his hometown.
In addition to law enforcement and emergency personnel, several citizens also arrived to show their support.
However, that was nothing compared to the number of people who attended Terney's funeral.
On Friday, hundreds of officers accompanied Officer Terney's body to Canadian High School, where his funeral was held.
He was laid to rest at Bower Cemetery.
A fund has been set up to help his family. Monetary donations can be made at BancFirst to 'The Justin Terney Memorial Fund.'