This is an archived article and the information in the article may be outdated. Please look at the time stamp on the story to see when it was last updated.
RALIEGH, N.C. - The bizarre story involving a North Carolina man who said he found his wife dead after he woke up from a dream is drawing national attention.
Last Friday, police found 29-year-old Lauren Ashley-Nicole Phelps dead inside the home she shared with her husband, 27-year-old Matthew Phelps, after he called 911 to report a stabbing.
"I had a dream, and then I turn on the lights and she's dead on the floor," Matthew Phelps told a 911 dispatcher. "I have blood all over me, and there's a bloody knife on the bed, and I think I did it."
According to WRAL, he told the dispatcher that he took too much cough medicine the night before to help him sleep.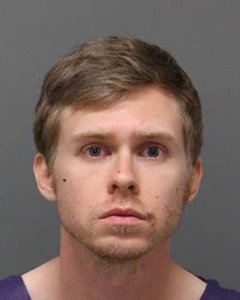 "I can't believe this," he said repeatedly
The couple had been married less than a year.
Phelps is charged with one count of first-degree murder.
A judge told Phelps that he could face the death penalty.
The man's attorney asked the public to withhold judgement until more details about the case are made clear.
"There's a lot to this story that I believe will be told in the future," Phelps' attorney, Joe Cheshire, said.
[protected-iframe id="cced40f66e69327b8c25512376e7c63e-29519643-62065474" info="http://www.wral.com/news/local/video/16929681/?version=embedded_v2&player_options=%257B%2522embedded_autoplay_next%2522%253Atrue%257D" style="width: 576px; height: 324px; background-color: transparent; border: 0px none transparent; padding: 0px; overflow: hidden;" class="wral-embedded-player" webkitallowfullscreen="" mozallowfullscreen="" allowfullscreen=""]
[protected-iframe id="34f9e98f5925916390e4993360e0d6b9-29519643-62065474" info="https://www.nbcnews.com/widget/video-embed/1040042051669" width="560" height="315" frameborder="0" allowfullscreen=""]