This is an archived article and the information in the article may be outdated. Please look at the time stamp on the story to see when it was last updated.
OKLAHOMA CITY – An Oklahoma third grader is hoping her letter will get to Governor Fallin amid the teacher walkout.
9-year-old Kati Nelmark is a third grader at a Norman elementary school.
Because she was sick Monday, she was unable to walk with teachers earlier this week. But, that didn't stop her from taking matters into her own hands.
Kati wrote a letter/poem and is hoping it will make it to Governor Fallin's desk.
Dear Mrs. Governor,

Today I come to you. You signed a raise for my teacher but there is more you can do. I was home sick Monday so I didn't get to walk. But I hope you will give me a moment so we can talk. My teachers walked out to make my future more bright. But for basic education she shouldn't have to fight. Many of my friends wonder what will happen if we don't get the money, it's a scary situation and no one finds it funny. We see bridges with horses and trolley cars downtown. How much did that cost? What not a sound?

We are at school some days without heating or air but our teacher finds ways to keep us comfortable because she cares. She takes money out of her pocket to make things fun. But that's not fair to her and shouldn't have to be done. I have friends that need things that their parents can't do. But there is always someone who will.. my teacher that's who.

Our schools are losing programs like music and art so giving teachers a raise is only a start. We get student teachers that are bright as can be but we lose them to other states because they can't work for free. I have friends that need services like reading and speech but without funding there is no one to teach. Most parents can't  private schools and with all these false promises, you must think our teachers are fools. How do you expect us to learn if there are no resources to share? You're limiting my future, is that really fair?

So Dear Mrs Governor, I come to you with a plea. You're a mom with a child just like me. Please search your heart and do what's right. Step up to legislation and help us fight. Fight for funding, resources and my education please because without change, I have no future to seize. Knowledge is power but without funds there is none. It takes only one person to get funding passed and you are the one!

Dear Mrs Governor, I know you have a lot on your plate but this problem is big and your answer can't wait. So today in the middle of all this drama, please don't think like a politician, and think like a momma. I'm not listening to a negative or what others will say because I know in my heart you will find a way.

Thank you for listening while I took the time to share. Now let's get busy and show these teachers that you care! -Kati Nelmark, age 9
Kati was able to join teachers and supporters at the Capitol after feeling better.
She even made a sign that reads "Dear Governor Please Please Please READ my letter!"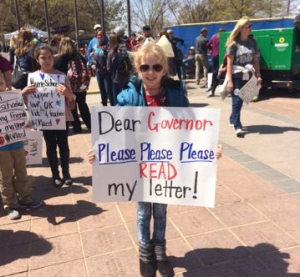 Several schools have closed for Day five, Friday, of the teacher walkout.
Kati's letter/poem can be found here: