This is an archived article and the information in the article may be outdated. Please look at the time stamp on the story to see when it was last updated.
OKLAHOMA - Irreplaceable moments in time, scattered in a tornado's winds.
Now, with the help of social media, two women are trying to reunite photos and mementos with their rightful owners.
The dust has long since settled from Monday's storms.
But, inside the debris raining over her home, Kristi Byers found purpose.
"It almost looked like it was snowing. Just shiny things, particles falling from the sky," she said. "Never seen anything like it, not in my life."
Among the particles were pictures, tossed miles by a twister, settling all over Ada.
"Where I found ones are east of town. We've got ones north of town," Byers said. "I just thought 'I've got to find the owner.'"
So, Byers, her friend, Tisha Todd and hundreds of others have taken their discoveries to Facebook, uncovering many more long lost items.
"My husband brought in a bible page," Todd said.
"I have found romance novel pages," Byers said.
But, lost among the photos and litter, a lone letter stands alone in Byers's mind.
"This is a letter that I got that touched me more than anything," Byers said.
Torn and tattered by the storm, the heartbreaking letter appears to be written by a child to their late father.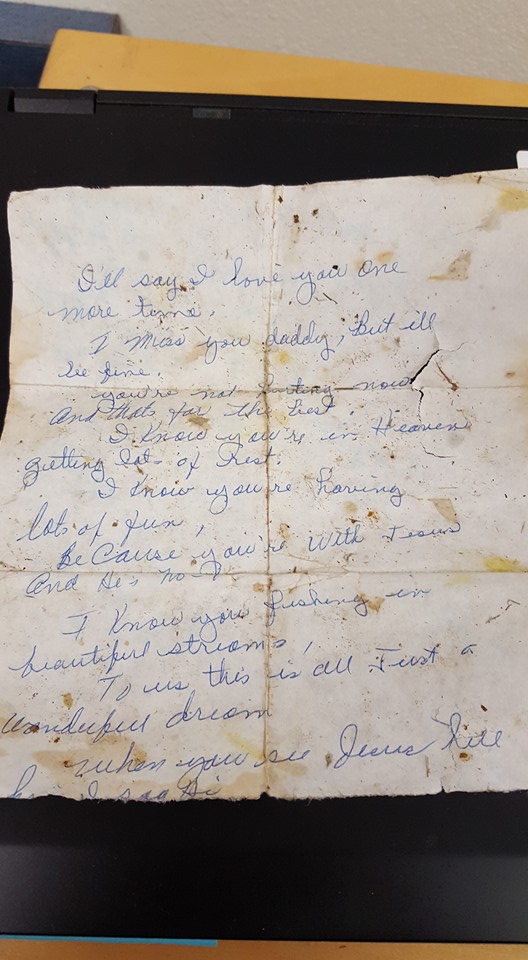 "My wish is to get it back to them, because I know how much it means to them," Byers said.
Anyone in search of pictures or a picture's owner is urged to join the Facebook group.