This is an archived article and the information in the article may be outdated. Please look at the time stamp on the story to see when it was last updated.
UPDATED 8:28 p.m. Winter weather ice storm is already causing hiccups across the state.
The winter weather creeped into the metro around 6:00 p.m. Friday evening.
EMSA has responded to 17 car accidents and one fall due to icy conditions.
According to OKC police, "I-240 overpasses are solid sheets of ice."
I40 eastbound to I35 NB is closed due to the ice on the bridge, according to Oklahoma Highway patrol.
Just an hour after the freezing rain started, numerous wrecks were reported across the metro.
One, located on I-40 near Dallas junction, involving 15 different vehicles. The 15 car pile-up backed up miles of traffic.
The call came in at approximately 6:59 p.m.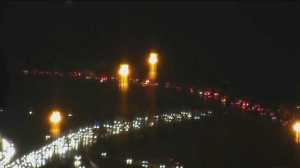 Another accident that was reported came in moments after the 15-car-pile up.
A fatal accident was reported at approximately 7:05 p.m. Friday evening.
There have been numerous wrecks reported across the metro, both injury and non-injury.
But roads aren't the only problem, Will Rogers World Airport tweets that they had to cancel 14 arrivals Friday night.
14 arrivals cancelled tonight, so check flights before coming to the airport on http://t.co/HglN6gUlWv.

— Will Rogers World Airport (OKC) (@fly_okc) December 21, 2013
Oklahomans are asked to avoid getting out in hazardous conditions.
However, NewsChannel4 knows it's getting close to Christmas and people need to finish shopping for their families.
If you have to get in the winter weather KFOR asks for you to:
Be aware of "Black Ice," which looks wet on the roadway, but is actually a thin layer of ice.
Stay at least 200 feet behind road-clearing equipment.
Allow extra space between vehicles, so there is adequate distance for breaking.
And please be patient, plan trips ahead and allow extra time to reach destinations.