This is an archived article and the information in the article may be outdated. Please look at the time stamp on the story to see when it was last updated.
OKLAHOMA CITY – Carnival Cruise Lines is not offering free cruises, but that's not what this post would have you believe.
As of Friday, the post had been shared over 75,000 times, except it's a fake page.
Carnival Cruise Line's senior cruise director and brand ambassador went to social media taking the shyster to task, calling them "soulless, heartless."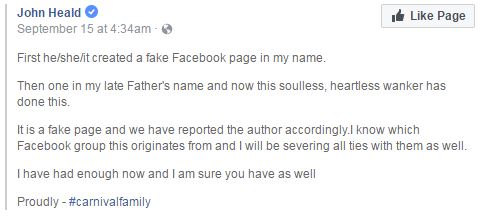 The bogus page goes onto say "Carnival is now offering free cruises to those effected by the hurricane…just pay taxes and port fees."
Oklahoma's Chief of the Attorney General's Public Protection Unit Julie Bays continues to put the word out about post Harvey and Irma scams.
"With Twitter and Facebook, people are interested in this disaster and they want to keep updated, so they're constantly checking their social media," Bays said. "They could easily be tricked into clicking on a website or page."
The In Your Corner bottom line:
Simply clicking "like" on any post is a bad idea
"Like farming" is where someone whips up a bogus Facebook page
Lures you with something free, like a cruise 
They're after your "like" and "share"
In this case, baiting you with a free cruise, while using the devastation in Texas and Florida to tug at your heart-strings.
Once they reach a certain amount of likes, they can sell the page to marketers or scammers, who then turn around and target you. 
"There was a gentleman out of California that started a Facebook page," Bays said. "He got caught trying to collect for some of the victims of Hurricane Sandy, so that happens."
The bogus post in question appears to have originated from a site called breakingnews247.com, which lets anyone whip up a fake news stories to share on social media in hopes of it going viral for their own personal gain. 
Do not like or share a post that seems too good to be true.
Really check out the URL and find out where the article originated from.
You can copy the title and put it into a search engine to see what comes up.