This is an archived article and the information in the article may be outdated. Please look at the time stamp on the story to see when it was last updated.
UPDATE 8/10/18 – It's looking like Nick Lenius and his wife, Michelle, will receive their reimbursement checks from Via Air after all.
The couple purchased a pair of round-trip tickets aboard Via Air through Expedia.
Instead of taking them to Austin, the airline flew them to Tulsa and ordered them off the plane, due to a mechanical issue.
After a five-hour delay, Via Air cancelled the flight and passengers were told to find another way to get to Austin.
They've been trying to get reimbursement checks from the airline ever since. 
Via Air initially told us they "gave the Lenius' refund to Expedia."
We checked with Expedia and got a different story, that Via Air was denying the Lenius' refund, since the tickets were used.
So, yes, technically, Via Air provided a service.
They just flew the Lenius' and dozens of other passengers to the wrong city, Tulsa, and left them 450 miles away from their final destination. 
"Via Air denied it because the ticket was used," Lenius was told. "I'm like, 'What does that mean?'"
Passenger Melissa Woody says she got the same response.
"I called and said, 'I want my money back,' and they said, 'No, that's considered a flight taken.' I said, 'But I ended up in Tulsa."
We still haven't gotten an answer on Melissa's refund.
Expedia confirmed the Lenius' will receive their reimbursement checks from Via Air in seven to ten business days.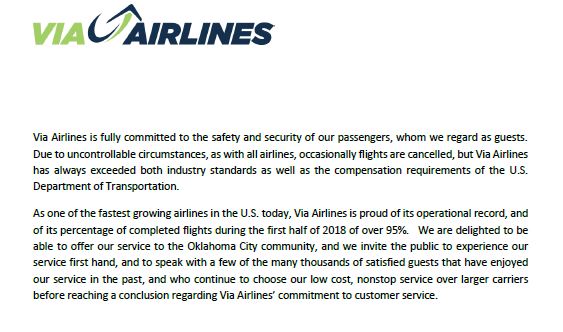 We'll keep you posted on those reimbursement checks.
OKLAHOMA CITY – Air travel can be stressful and even the best drawn-up plans can go haywire.
Just ask Nick Lenius.
He recalled, "They stranded us."
He and his wife and dozens more passengers were stranded hundreds of miles away from where they paid the airline to take them.
They bought round trip tickets aboard Via Air.
It was a non-stop flight from OKC to Austin.
"We thought with it being listed on Expedia it's got to be at least somewhat reliable, right?"
The first bump in the road was a four-hour weather delay. 
"That's out of the airlines control [and] we were fine with that," Lenius said. "We sat there. We watched it rain."
With the weather delay finally behind them, they hopped onto their plane.
Little did they know the turbulence they were about to experience.
The first sign of trouble came as they were taxiing to the runway when the Via Air pilot came over the intercom letting the passengers know they were on a non-stop flight to Tulsa.  
"Everybody on the plane you could hear them almost gasp," Lenius said.
Turns out, the plane had some stowaways already on board, passengers who were on their way to Tulsa when they diverted to Will Rogers, so the jet took off for Tulsa to drop off those diverted passengers first.
Lenius says a flight attendant told him it would be a quick 45 minute turnaround, but when they landed in Tulsa, the flight crew ordered everyone to get off the plane, blaming a mechanical issue this time for the interruption in service.
Melissa Woody was another inconvenienced Austin bound passenger on the plane.
"This is not right for you guys to not tell us that we have to go to Tulsa first," Woody said. "You should have told us this before we ever boarded that flight."
Woody, who suffers from a pain disease, says she and the others were left to fend for themselves, including a 93-year-old passenger in a wheelchair, whose son was waiting to pick her up in Austin.
"Nobody had a wheelchair for any of us," she said.
The airline waited another 5 hours to cancel the flight.
A little after midnight, Via Air sent the plane on its way, crew on board and told the customers to figure out another way to get to Austin.
The gate attendant told the passengers they would be reimbursed for the trip they never took.
"Via Air denied it because the ticket was used," Lenius was told. "I'm like, 'What does that mean?'"
Woody tells the In Your Corner team she got the same response.
"I called and said, 'I want my money back,' and they said, 'No, that's considered a flight taken.' I said, 'But I ended up Tulsa."
That's not all.
We uncovered more reports of Via Air deserting passengers and failing to follow through with promised reimbursements in Texas and Colorado. 
"They said, do whatever it takes to get there. You'll have full reimbursement for all expenses," said Jill Fosse.
 An investigative team at KXAN, our sister-affiliate station in Austin, launched their own inquiry into Via Air.
They found a family of six forced to spend an extra $5,000 in emergency plane tickets just to get home.
Bryan Hassler recalled his conversation with Via Air's customer service center, "We said, 'Hey, is this okay? Do you need to talk to your manager about this, this is what we're going to do' and she put us on hold, went and talked to her supervisor and came back and said, 'Yes, that's what they want you guys to do.'"
There are dozens more customer complaints filed with online travel review sites and The Better Business Bureau, which gives Via Air its worst rating.
The U.S. Aviation Consumer Protection Division has also received its fair share of grievances against the airline, nearly 70 since January of last year.
A former Via Air call center worker says the airline stopped issuing refunds to passengers on cancelled flights, which drove up complaint calls, ultimately driving her to quit.
"Our hands are tied," Fashawna Alexander said. "There was nothing we could do to help somebody in a situation. Nobody wants to go into customer service and you can't provide the customer the service."
Via Air's VP of Flight Operations, Dominic Acevedo, sat down for an on-camera interview with the news crew from KXAN.
He claims he didn't know about broken promises of cash reimbursement. 
"I believe in customer service. I was not aware of the details of these travelers, but we will resolve this in a more systemic issue in terms of improving the training in the department, look at the oversight as well in that department to see what the breakdown was, but I'm committed to fixing it."
He says his airline has a seven-day policy of refunding customers after a cancellation and the airline works to place those stranded customers on the next available flight. 
"We are a rapidly growing company and we're working hard to meet the needs of our guests," Acevedo said. "But, moving forward, we'll definitely take into consideration all of these complaints and everything that has happened to our guests and try to get the airline better organized moving forward."
The Lenius' and Melissa, they are still waiting on their reimbursement checks from that nightmare day of travel.
Lenius still can't believe he made it to Austin.
"So a flight that should have taken 2 hours non-stop was 24 hours, a hotel room, and 4 airports later, we were [finally] in Austin," he said.
Woody vows never fly Via Air again.
"If this is the way they're going to run their business, then they should not be in business," she said.