This is an archived article and the information in the article may be outdated. Please look at the time stamp on the story to see when it was last updated.
SAILES, Louisiana - An entire lifetime has passed since the dangerous duo Bonnie and Clyde were shot to death by police 83 years ago.
The outlaw couple has been romanticized in movies over the years, yet they are believed to be responsible for 13 deaths, including nine police officers.
Bonnie Parker and Clyde Barrow met in Texas in the early 1930's, when Parker's husband, whom she married at the age of 16, was serving time for murder.
The couple soon began their life of crime together, committing brazen robberies, unafraid of shooting anyone who got in their way.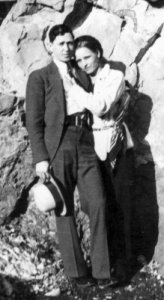 Along with a group of cold-blooded friends and relatives, the "Barrow Gang" took their crime spree from Texas to Oklahoma, Missouri, New Mexico, and Louisiana.
The outlaws also killed a Texas prison guard and shot several others while helping Barrow's childhood friend, Raymond Hamilton, escape from the Eastham Prison Farm.
Parker and Barrow's love affair for living on the wrong side of the law, however, ended May 23rd, 1934.
After a three-month search, investigators narrowed their location to an area near Sailes, Louisiana.
Louisiana and Texas police then hid in the bushes along an old country road until the couple drove by in their stolen 1932 Ford V-8.
Bonnie and Clyde got a lethal dose of their own medicine with a barrage of bullets, ending the infamous crime spree that gave them household names, even 83 years after their deaths.