This is an archived article and the information in the article may be outdated. Please look at the time stamp on the story to see when it was last updated.
MUSKOGEE COUNTY, Okla. – Officials are looking for an inmate who walked away from the Jess Dunn Correctional Center in Taft Thursday.
Authorities say Nathan Harmon is described as a white male, about 5'10", with brown hair and blue eyes, and weighs approximately 200 pounds. He may also go by Corey J. Childres, Nathan Harp or Nathan Hartman.
When he walked away, he was serving time for multiple felony convictions out of Oklahoma, Coal, Bryan and Cleveland counties for crimes including theft, pawning stolen goods, second-degree burglary and escape after lawful arrest.
Harmon allegedly stole the personal pickup of a Muskogee police after walking away from the correctional center.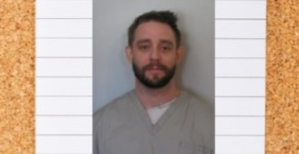 The vehicle is a white 2004 Chevrolet Silverado Z71 with the tag number of 509MEI. The truck has a silver tool box in the bed, as well as a Yeti sticker on the back window.
No weapons have been reported taken in the theft.
Harmon is believed to be seriously injured, and may be bleeding from his right hand or arm, after climbing a razor wire fence at the correctional center.
If you have any information, call the escapee hotline at 866-363-1119.