This is an archived article and the information in the article may be outdated. Please look at the time stamp on the story to see when it was last updated.
OKLAHOMA COUNTY, Okla.-- Two Oklahoma County inmates are facing more trouble tonight after deputies uncovered a major operation to escape.
It was a bold attempt by two inmates. They were somehow able to saw through 10 - 3/4 inch bolts. They
also made a 'rope' that could almost reach the ground from the 8th floor.
It seems they were eventually hoping to escape.
"I think the thing that mystifies me the most is their ability to cut through 10 steel bolts," Sheriff John Whetsel said.
Metal was used to dig through concrete walls, wire cut the walls, and a broken bulb was allegedly used as a weapon.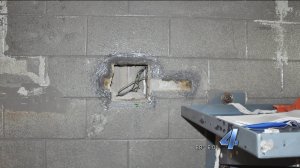 It was an elaborate plot to break through the walls of the 8th floor of the county jail.
"We were extremely fortunate with the observation of the detention officer," Whetsel said.
A light seen flickering in the window led a detention officer to search the cell of Chad Yeaman and O'Neal Cotton earlier this month.
When confronted, Sheriff John Whetsel says Yeaman attempted to attack an officer with a broken bulb. Luckily, that attack was stopped before anyone was hurt.
But a search through the jail cell found the items the inmates allegedly used to break free, as well as a hole in the wall beneath the glass bricks...a hole which was open to the outside.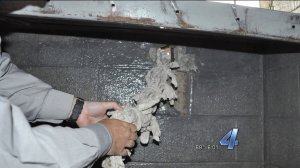 Jail employees also found a rope made of braided bed sheets. It measures more than 80 feet in length - nearly long enough to reach the ground from the 8th floor.
"We believe it's intended use was to allow an inmate, at some point, to scale down the wall in an attempt to escape," Whetsel said.
The hole was covered up by a paste the inmates allegedly made from soot, oatmeal, and water.
The sheriff says the attempt highlights serious flaws in the jail.
"Those walls were supposed to have concrete filled blocks. They do not. They have open concrete blocks," Whetsel said.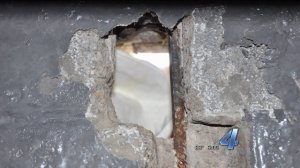 There are allegedly voids where inmates can conceal contraband.
They believe the inmates had been working on the attempt for nearly a month.