This is an archived article and the information in the article may be outdated. Please look at the time stamp on the story to see when it was last updated.
OKLAHOMA COUNTY, Okla. – For the first time in 20 years, Oklahoma County has a new sheriff in town.
On Wednesday, the Oklahoma County Sheriff's Office said goodbye to long-time sheriff, John Whetsel.
Last month, the 67-year-old announced that he had decided to retire. The news came as a surprise to voters since Whetsel had just been re-elected to that position in November.
"I thank the citizens of Oklahoma County who have supported me throughout my fifty-year career, especially by electing and re-electing me Sheriff six times.  I apologize to those who may feel I have let them down by my retirement.  That is not my intent.  I am doing what I think is best for the future of the Sheriff's Office. I am convinced that new leadership is required to solve the problems with the jail and overall funding of the many responsibilities of the Sheriff's Office.

I am proud of the many changes and improvements that we made during the past 20 years.  Working together with our supervisors and employees, we modernized the operation of the Sheriff's Office and molded it into an efficient and effective law enforcement agency that actually provided law enforcement and crime fighting services for the protection of our citizens," Whetsel wrote in his retirement letter.
On Thursday, P.D. Taylor was announced as the interim Oklahoma County sheriff.
Taylor has spent 46 years in law enforcement, including the past 20 years with the Oklahoma County Sheriff's Office.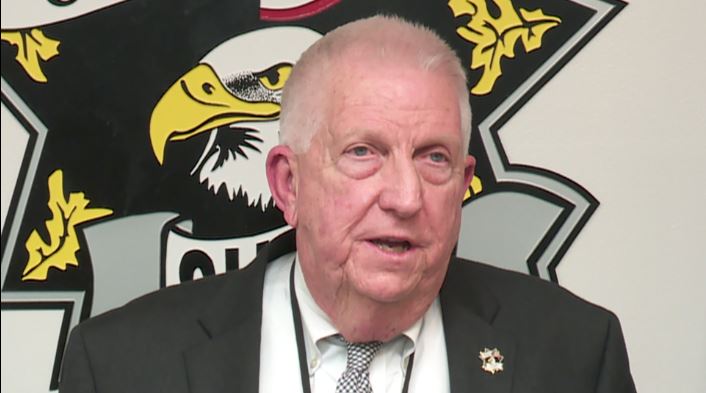 Taylor says he believes there are several positive changes that can be made to the sheriff's office.
"It's an honor to be in this position today," Taylor said.
Taylor says he wants more patrol officers to focus on unincorporated areas of the county so their response time is faster. He also wants more oversight in the Oklahoma County Jail, including increased supervision on the night shift.
The county will be forced to hold a special election to replace Whetsel, which will likely end up costing about $300,000.