This is an archived article and the information in the article may be outdated. Please look at the time stamp on the story to see when it was last updated.
BLACKSBURG, Virginia — Middle-school student Nicole Lovell was stabbed to death the day she went missing from her home in Blacksburg, Virginia, according to preliminary findings released by investigators.
Authorities also announced a new charge in the case, but they left key questions unanswered as they spoke to reporters Tuesday: How did two Virginia Tech students end up crossing paths with the 13-year-old, and why would one of them allegedly abduct and kill her?
"My responsibility to Nicole Lovell and this community is to maintain the integrity of this case for court and to seek justice inside of a courtroom," Montgomery County Commonwealth's Attorney Mary Pettitt said. "I will not jeopardize the many hours of work these officers have done for Nicole. Therefore, I will not be releasing any additional factual information outside of the courtroom."
Nicole disappeared early on January 27, spurring an extensive search that led to the discovery of her body three days later in a wooded area in North Carolina.
Pettitt said stabbing was "a very preliminary determination of the cause of death" in the case. She announced a new charge against one of the suspects.
Virginia Tech student Natalie M. Keepers now faces a charge of being an accessory to murder before the fact, the prosecutor said. The 19-year-old had already been charged with concealing a body and being an accessory to murder after the fact.
Her classmate, 18-year-old freshman David E. Eisenhauer, faces abduction and murder charges.
Attorneys for the two did not respond to requests for comment.
Investigators have been tight-lipped about the evidence they have that allegedly ties the two college students to the killing. In an arrest warrant for Keepers obtained by CNN, authorities gave a date range for when they believe her alleged connection to the case began: January 4-January 27.
Police arrested Eisenhauer late Friday. He was already facing charges the next morning, before Nicole's body was found. Police have said he and Nicole were acquainted before her disappearance, and that he "used this relationship to his advantage to abduct and then kill her."
Eisenhauer did not lead authorities to the body, according to Blacksburg Police Chief Anthony Wilson, nor did he confess to murder. Still, authorities managed to piece things together after sorting through social media, exploring 300-plus tips and searching for other information pertinent to the case.
A spokesman for Kik, an app that allows users to send anonymous messages, told CNN that it had cooperated with an FBI investigation into the case.
"This involved responding to multiple emergency requests under our Emergency Disclosure Request policy, according to which we release certain account information to law enforcement agencies for cases that involve imminent threat of death, loss of security or serious physical injury to any person," Kik spokesman Rod McCleod said.
Investigators haven't released details about what role the app or social media sites could have played in the case.
Victim loved pandas, 'American Idol,' mom says
Outside the ground-floor apartment where Nicole lived, there is evidence of more carefree times: a bicycle, a yellow Tonka truck, a few plastic chairs.
A small bouquet of pink and white flowers rests on a table, in the 40-something temperatures, a reminder of a family's inconceivable loss.
Tammy Weeks, Nicole's mother, held a stuffed panda in her hand as she spoke to reporters about her daughter.
The girl's favorite color was blue. She loved pandas and dancing, and dreamed of making it big on "American Idol" someday.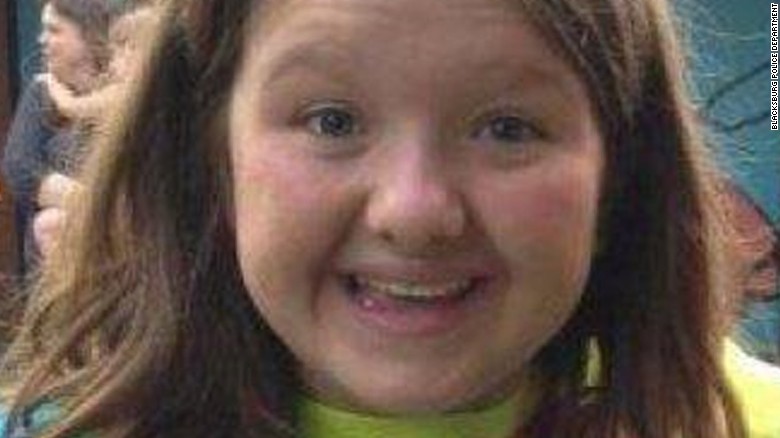 Time after time, Weeks said, the girl she called "Coley" beat the odds.
First, there was a rare tumor in her liver that was diagnosed when she was a baby. Then there was a lymphoma fight that led relatives to think they'd "almost lost her a second time." And third, there was a bout with acute respiratory syndrome and antibiotic-resistant staphylococcus that led doctors to give her a mere 1% chance to make it.
Somehow, Nicole survived all that, her mother said.
"Nicole was a very lovable person," Weeks said. "Nicole touched many people throughout her short life."
At that point, a trembling, sobbing Weeks abruptly left the news podium and the room. Josh Blankenship, a pastor at Auburn Baptist Church, finished reading from her prepared statement.
"Our hearts still ache in sadness and secret tears still flow," Blankenship said. "What it meant to lose you, no one will ever know."
Suspects could face life in prison
Eisenhauer faces a sentence of 20 years to life if convicted of first-degree murder, the same sentence Keepers could face if she's convicted of accessory before the fact.
The high-profile case has cast a spotlight on the university the suspects attended, which dominates life in Blacksburg.
Lantern Ridge, the apartment complex where Nicole lived, sits amid the maze of mostly student housing roughly a half mile from Main Street, which stretches downtown to the Virginia Tech campus.
Students on campus Tuesday repeatedly told CNN the situation was sad but declined to talk about the case. Some, including the head of a university robotic sailing group to which Keepers belonged, said they'd been told not to speak to reporters. University spokeswoman Tracy Vosburgh said her office hadn't placed any restrictions on what students can say to the media.
Many students are shaken, sophomore Hanna Humphreys said.
"It's difficult to think people representing our school could do that on the side," the 19-year-old said as she headed to mail a letter Tuesday at the dorm where Eisenhauer lived. "I think we all have weird jitters because of it. … It's hard to think about. Students here don't give me that vibe. I've never been scared to walk around campus, not even at night."
Humphreys said she still isn't.
Just like the shooter who killed 32 people on the campus in 2007 by no means represented the student body, Eisenhauer and Keepers — if they're guilty — don't represent the 31,000 students on the Blacksburg campus today, Humphreys said.
"I don't know how to say it without saying they're bad people. They just don't represent us. It's just not us," she said. "They aren't real Hokies to me. That's not what we do."