This is an archived article and the information in the article may be outdated. Please look at the time stamp on the story to see when it was last updated.
UPDATE: The Logan County Sheriff's Office confirmed the victim found inside the home is 65-year-old James Fox.
Fox was the resident who lived inside the home.
Investigators say they are still looking for clues to a possible motive and suspects in the case.
Fox's Cadillac Deville is still missing.
GUTHRIE, Okla. - Logan County authorities are searching for clues related to a homicide.
On Sunday night, friends and neighbors called police after discovering a body inside a home.
Friends told investigators they became worried after not hearing from the man since Dec. 3 .
They asked a neighbor with a key to his house to go check on him inside his home, located in the 8300 block of Holly Hill in southern Logan County.
When the neighbor went inside the home, they discovered a body.
However, deputies say they cannot determine if the victim is actually the man who lived in the home.
"There was some trauma to the body which made it difficult to determine if it was that person or not," said Chief Deputy Rich Stephens, with the Logan County Sheriff's Office.
Authorities say they also are not sure exactly what happened in the home.
"The house was disheveled, so it's difficult to determine if there are things missing or motive for someone being in the residence," he said.
Right now, the Oklahoma State Medical Examiner is working to identify the victim, who they say died from blunt force trauma to the head.
In fact, his injuries are so severe, authorities are forced to use fingerprints to try to identity him.
Deputies say while looking for clues, they are also searching for a 1999 Cadillac that is missing from the residence.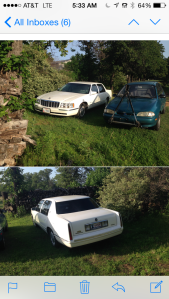 "At this time, we really need to find this Cadillac vehicle. That's going to be a major lead as to what happened," said Stephens.
Officials say if they can find the car, they hope to find out more about the man who died.
"It has some damage to the driver's side rear mirror that's on the outside of the vehicle, as well as someone has installed a trailer hitch on the back of the car, which is pretty unusual for such a low-riding vehicle," Stephens said.
The car was last known to have the license plate "006LJN," which is different than the plate shown in a previous picture.
No one in the neighborhood would talk about the situation on Monday.
Deputies say they have not had any trouble at the home in the past.
If you have any information, please call the Logan County Sheriff's Office.