This is an archived article and the information in the article may be outdated. Please look at the time stamp on the story to see when it was last updated.
[protected-iframe id="bc74b2a6a8fe5c09557505852cabc03f-29519643-31344442″ info="http://v9.anv.bz/scripts/anv_mcp_9.js" ]
OWASSO, Okla. – An Oklahoma mother was arrested Tuesday after police say she left her toddler in a car while she shopped at Walmart.
A couple says they were leaving Walmart when they heard a noise in the distance.
"We walked past the van and it didn't quite sit right with me," said Chrysty Lansdowne. "I just said to Jay, 'What was that sound?"
The couple told KJRH they could barely hear the baby calling out for help.
"You imagine the baby is crying in the car because it is so hot. She wasn't crying at all," said Lansdowne.
The couple looked through the tinted windows of the van and spotted the child.
"If the baby would have been unconscious or asleep, we would have had no idea," said Jedidiah Bizzell.
The couple says the baby was covered in sweat and looked exhausted.
They told KJRH they frantically pulled all the door handles until they could get one open.
After getting the child out of the car, they called 911.
Paramedics say the child's internal temperature was more than 100 degrees, so they took her to an area hospital.
According to the police report, a responding firefighter told officers the temperature inside the car would have reached 120 to 138 degrees within 10 minutes of the door being closed.
Police stopped the child's mother, Hannah Secondi, as she left the store.
They say she "began frantically asking if her child was deceased."
Secondi told officers the 1-year-old was inside the car for about 45 minutes and that she had forgotten her when she went into the store.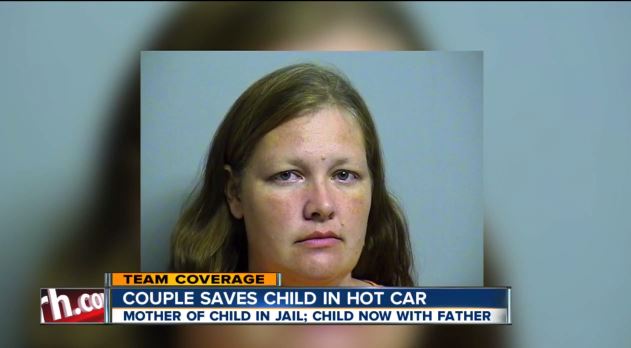 However, Landsdowne says Secondi left the store with another child and doesn't believe the 1-year-old was simply forgotten.
"It is not like, 'Oh, I just ran inside real quick, I completely forgot, the day was crazy,'and she was alone," she said. "There was [sic] more people with her. There is no reason why the baby should have been left in the car. Not at all."
Secondi was arrested for child abuse.
See a mistake? Report a typo here.