This is an archived article and the information in the article may be outdated. Please look at the time stamp on the story to see when it was last updated.
OKLAHOMA CITY – A tanker fire at a power plant in Oklahoma City burned most of the day on Thursday.
"I came in about 7:30 and I could smell something kind of different," said Dean Savage, an employee of Horizon Cable Service.
On Thursday morning, fire crews were called to a power plant near Mustang Rd. and N.W. 10th St. following a reported blaze.
Initial reports indicate that a natural gas heater, which supplies natural gas to the entire plant, was up in flames.
For hours, the flames continued and smoke billowed from the plant.
"I could hear the fire trucks, you know, the sirens going off," said Savage.
The fire quickly filled the sky with thick, heavy black smoke.
"I didn't see any smoke and I walked across the street and whenever I walked across the street, I saw the smoke going on. I told the guys that, 'Man, there`s a fire going on,'" said Savage.
At one point, Savage said he wondered if the tanker was going to explode.
"It gradually started getting a little worse, then I saw the fire department back away and started walking across, and police officers started screaming up and down the street, telling everyone to evacuate," Savage said.
He said fire crews kept a good eye on the smoke and flames, but he said it looked like it was getting really close.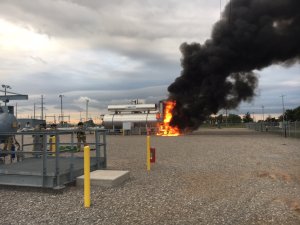 "I walked up on top of the hill and saw the fire department all back away from the fire tankers," said Savage.
Fire crews gave orders for nearby businesses to evacuate as a precaution, forcing Lopez Foods to close.
"I started cussing," said Donald Cagle. "I came up here to deliver my load and found out it was on lock down because of the fire."
Cagle had a truck full of beef, his last load before he headed home to Arkansas.
"When something like this happens, you just sit and wait and don't get paid," said Cagle.
Finally, streets and businesses reopened, but the fire continued burning.
"As you can see, the flames are still going on," said Savage.
Firefighters and HAZMAT crews continue to monitor the fire and conditions in the area. There have been no injuries to civilians or firefighters reported.
OKC Fire says they expect the fire to continue until mid-day tomorrow.