This is an archived article and the information in the article may be outdated. Please look at the time stamp on the story to see when it was last updated.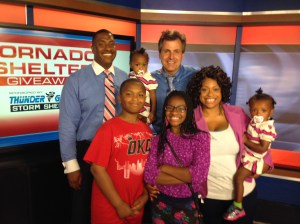 OKLAHOMA CITY–The Lacey family of Oklahoma City won a tornado shelter from Thunderground Storm Shelters and NewsChannel 4.  Mr. Lacey said he couldn't believe it when he found out he had won. He was surprised but very thankful.
"In Oklahoma, you know a storm shelter is a need and it will make my family safer," said Mr. Lacey.  He and his wife, Alma, have four beautiful children who were excited about hearing the news of winning a new tornado shelter.  "I experienced the May 3rd, 1999 tornado and a tornado in Piedmont a few years ago, so we are very familiar with our wild weather. This brings us peace of mind," he added.
His son, Tyson said he'd like to decorate the inside of the tornado shelter with a Cleveland Cavalier, NBA  team theme. Mikaela, his daughter said she'd like to help decorate it as well.
For your chance to win a tornado shelter from Thunderground Storm Shelters, watch NewsChannel 4 weeknights at 10:00 p.m.
 Click here for complete rules.