This is an archived article and the information in the article may be outdated. Please look at the time stamp on the story to see when it was last updated.
EDMOND, Okla. — A possible mass casualty event at an Edmond high school avoided.
The Administration was alerted through students about their concerns for this individual.
Concerns about a student now accused of planning to use explosives at a school, actually came nearly two weeks ago.
Today, police made a terrifying discovery, thanking concerned high schoolers for coming forward.
"Last week there were two students that came forward to school administration because they had received text messages from this student, they felt he was suicidal," Jenny Monroe, Edmond Police Department spokeswoman said.
The days following initial concerns about the student,  heavy snow shut down most Oklahoma schools including Edmond north.
"Over the snow days, the text messages between the students elevated to where the students came back to school on Friday, told administration again they were really concerned about the mental health of this student," Monroe says.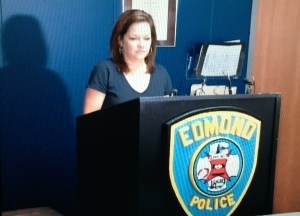 At that point, police took over. Jenny Monroe with Edmond PD addresses bomb threat
"The language was very inflammatory, it really concerned the students, and they came forward on Friday, the administration  immediately pulled that student out of class, contacted his parents and the student was then escorted and taken by Edmond police off campus to an in-patient treatment facility," Susan Parks-Schlepp, Director of Public Information for Edmond Schools said.
While at the treatment facility, counselors made an alarming discovery.
"Today is when therapists from that in-patient counselor came forward to us to give us the information of what he had planned and how he was going to carry it out," Monroe says.
A plan to kill several people. The school was searched, nothing found, but then police went to his parents home.
"At the house we did find components of explosives, we did find blueprints of explosive, we found paperwork and plans of his part," Monroe said.
Police and administrators are thanking the students who initially came forward.
"[They] may have stopped an event that we are quite confident may have been carried out in the future," Monre says.
"If you have a gut feeling about something , if you believe somebody else is hurting or that they are reaching out, or they are in need of care to please come forward," Schlepp said.
We are told that student will not be returning to Edmond schools. He has not been arrested, but does face charges of "possession of explosives" and "manufacturing of explosives".
Edmond Police are confirming that they've found components to make explosives at a 16-year-old male Edmond North student's home, preventing a real threat to the school.
Last week friends received text messages from the teen saying he was suicidal and may be a danger to himself.
#BREAKING Edmond Police say they found items to make explosives at an Edmond North student's home @kfor #edmondnorth

— Leslie Rangel (@LesRangelonFox7) March 13, 2015
Worried, those friends alerted their parents, and the student was taken to an in-patient facility where a mental evaluation was performed. After those evaluations, a therapist came forward to Edmond PD with information about his plan and how he would carry it out.  Police say that this was a real threat that they prevented. His intent was a mass casualty event.
The student has not been charged as the investigation is ongoing.
See an error? Report a typo here.