This is an archived article and the information in the article may be outdated. Please look at the time stamp on the story to see when it was last updated.
NORMAN, Okla. – Cleveland County District Judge Thad Balkman ordered Purdue Pharma and Janssen Pharmaceuticals to produce witnesses to take the stand.
The order came after the two companies repeatedly failed to make witnesses available for disposition.
"The companies' repeated disrespect for this court, the state of Oklahoma and Judges Thad Balkman and William Hetherington, whose deadlines they continue to blatantly ignore, will not be tolerated," Attorney General Hunter said. "I commend the order from Judge Balkman, which will enable our team to keep this case on track for the May 2019 trial. We will hold these companies accountable, as we continue to aggressively litigate this case."
Attorneys with the state want Purdue, in particular, to put a witness under oath to testify about statements the company made in a full-page advertisement in the Wall Street Journal that appeared in the paper on Dec. 20, 2017.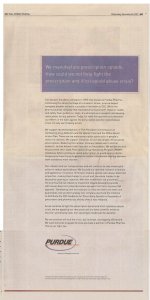 The state argued that Purdue's continued delays in the trial are due to the company trying to move its operation overseas.
"Purdue is trying to buy time so it can move assets and employees and recreate the opioid plague overseas with its company Mundipharma, and either file bankruptcy or leave an empty shell here in the United States for all of the victims of its corporate greed," the state's emergency motion reads.
They point to the company's hiring of a man who specializes in corporate restructuring as evidence.
Judge Balkman agreed and filed the order today.
You can read the state's emergency motions here.