This is an archived article and the information in the article may be outdated. Please look at the time stamp on the story to see when it was last updated.
OKLAHOMA CITY – With a jury of 12 selected, both prosecutors and Holtzclaw's defense gave their opening statements Tuesday afternoon.
Daniel Holtzclaw, a former Oklahoma City Police officer, is charged with 36 different crimes after 13 different women claim they were sexually assaulted while Holtzclaw was on duty.
The events allegedly took place between 2013 and 2014 in the Springlake Division, on the northeast side of the metro.
A jury of eight men and four women will decide the fate of former officer.
One male and one female have been selected as alternates.
Both the state and the defense described this area of town as crime-ridden.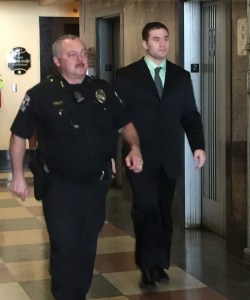 In his statement, Assistant District Attorney Gayland Gieger described many of the alleged victims as being down on their luck, who didn't know where to turn.
He said many of the women told investigators they didn't report the assaults, because they didn't think anyone would believe them.
Holtzclaw's attorney, Scott Adams, paints a different picture.
Adams described his client as 'naive and very gullible,' who was trying to get to know the area to which he was assigned.
According to Adams, Holtzclaw's lifelong dreams included being in law enforcement.
In his opening statement, Adams described many of the victims as 'street smart like you can't imagine,' claiming many of which were high when the alleged assaults took place.
Witness testimony began late Tuesday afternoon.
The first witness called to the stand is one of the alleged victims in this case.
Her testimony will continue tomorrow.