This is an archived article and the information in the article may be outdated. Please look at the time stamp on the story to see when it was last updated.
OKLAHOMA CITY - After 40 years, one of our own is leaving the anchor desk.
Linda Cavanaugh has had an extraordinary career at WKY-TV and KFOR that has spanned four decades. She started her career at Channel 4 as a reporter and soon became the station's first female co-anchor.
Over her career, Cavanaugh has been honored with more than 30 national awards, 20 regional Emmy awards and was inducted into the Oklahoma Broadcaster's Hall of Fame.
In addition to telling stories that are close to our hearts, she has also changed the laws in the Sooner State.
In the 1980s, Linda completed an investigative series on restaurants across the state. After her stories aired, state inspection records were made available to the public for the first time.
She was the first non-network journalist from the United States to be allowed into the Soviet Union under the 'glasnost policy.' She was also the first American journalist allowed inside the Hanoi Hilton prisoner of war camp in Vietnam.
On Friday, Linda took her spot on the KFOR set for the last time.
Prior to the newscasts, KFOR General Manager Wes Milbourn announced the dedication of the 'The Cavanaugh Studio."
"For more than 40 years, Linda Cavanaugh has been our state's premier storyteller. As a journalist, she consoled Oklahomans in the midst of collective tragedies and cheered their inevitable triumphs. Her contribution to journalism in our state is immeasurable. We dedicate this studio to Linda Cavanaugh, a broadcast pioneer, who photographed, edited, wrote, reported, produced and anchored 'our story' for four decades," the dedication plaque reads.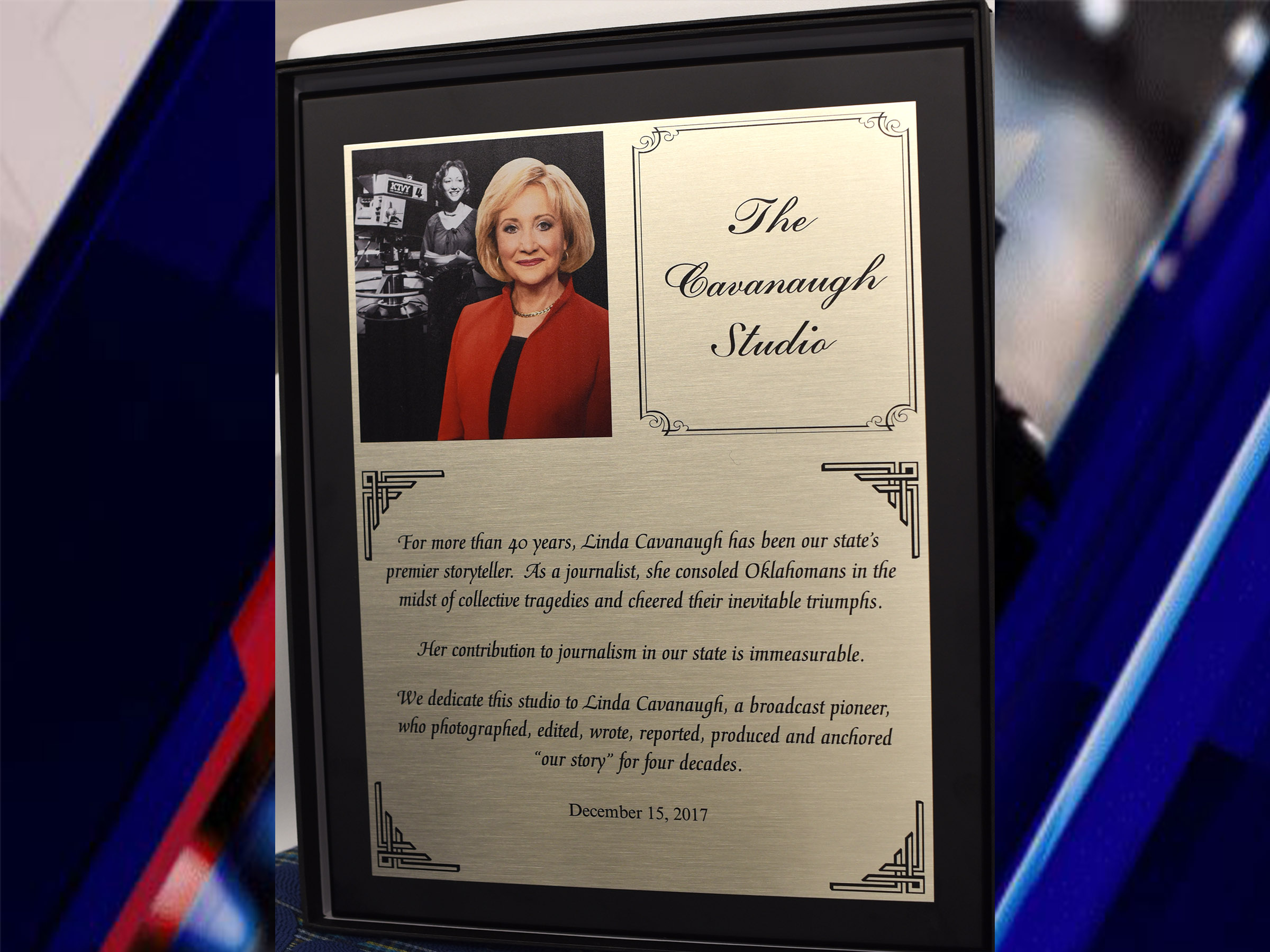 "I can't even imagine having a studio named after me when there are so many great people who came through here. So I hope you'll let me accept this in their names as well because this station has housed remarkable journalists, and I've not at the top by any means. Some of them are names that you wouldn't even know, and I remember them and I'm grateful," Cavanaugh said.