This is an archived article and the information in the article may be outdated. Please look at the time stamp on the story to see when it was last updated.
NEW YORK - What an honor for Oklahoma's NewsChannel 4.
KFOR anchor Linda Cavanaugh accepted a National Edward R. Murrow award in New York City Monday night, for Channel 4's coverage involving survivors of the Oklahoma City bombing.
Honored to receive a national #Murrows award tonight from @LesterHoltNBC . Happy my daughter and husband could be with me in NYC. @kfor pic.twitter.com/lBVf93uYLm

— Linda Cavanaugh (@linda4news) October 11, 2016
During a series of reports, KFOR highlighted the journey of healing and forgiveness taken by those who were deeply scarred by the worst domestic terrorist attack in U.S. history.
Speaking to those who were injured and those who still mourn, KFOR documented the haunting physical and emotional challenges the victims have faced since 1995.
While producing the series, Channel 4 contacted many victims who were reluctant to relive the past two decades.
"They avoided talking about it," Cavanaugh said. "They preferred to look to the future. In many cases, it was difficult to convince some of those interviewed to return to a time that brought them so much pain. The fact that they were ultimately willing to do so speaks to their courage."
The prestigious honor was presented by the Radio and Television Digital News Association.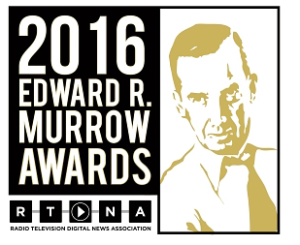 "Our station is humbled to be recognized on a national level. The series was incredibly powerful. It showed KFOR's continuing commitment to never forget those affected by the tragedy in Oklahoma City," said Wes Milbourn, President and General Manager of KFOR and KAUT.
Edward R. Murrow was a groundbreaking journalist known for his honesty and integrity.
"This particular award means so much to our staff of committed journalists. It inspires us to continue telling the compelling story of April 19, 1995," said Natalie Hughes, KFOR's News Director. "KFOR dedicates this award to those who were killed, those who survived and those changed forever."