This is an archived article and the information in the article may be outdated. Please look at the time stamp on the story to see when it was last updated.
OKLAHOMA CITY – The future of the Oklahoma City Public Schools superintendent will soon be known.
On Monday, board members said Superintendent Rob Neu was resigning his post but, the following day, Neu said he had not resigned.

During executive session of a special meeting Thursday night, board members will talk about the employment of Neu.
NewsChannel 4 has obtained details of his contract from the Oklahoma City AFT.
Neu originally signed a three-year contract, which is in effect until June 30, 2017.
He receives a $240,000 annual salary and gets 12 sick days, 35 vacation days, 10 holidays and three personal business leave days.
Under the terms of his contract, Neu also has a fully paid contribution to the OK Teacher Retirement System and an additional $25,000 annual contribution to a 403(b) retirement plan.
Neu also receives $500,000 term life insurance and has fully paid health, vision and dental insurance for his family.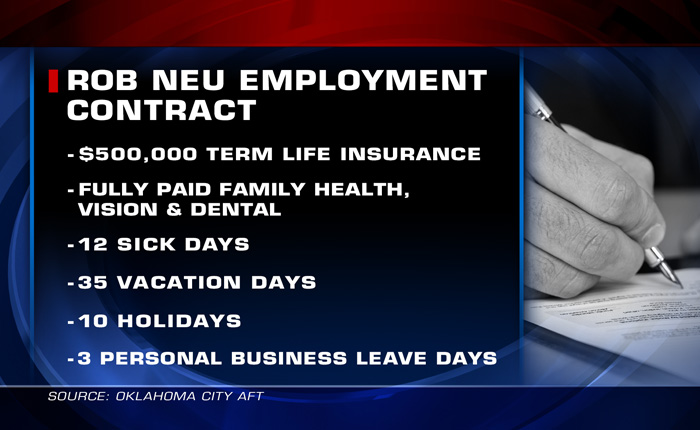 The report claims Neu also received a cell phone, laptop, home computer, printer and iPad to help with his duties as superintendent.
He also receives $10,000 annually for a car and got up to $30,000 for a relocation expense.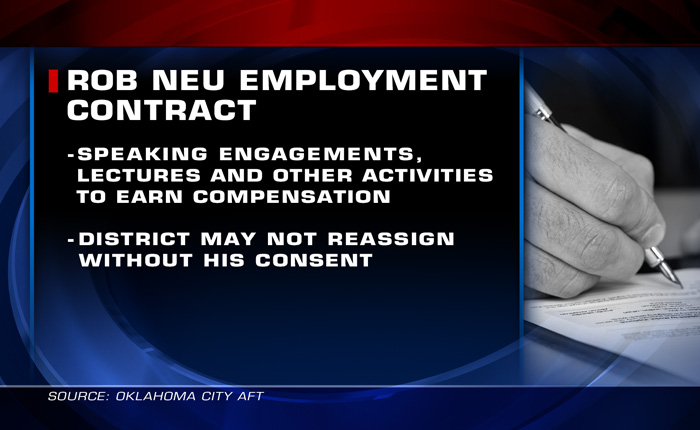 Neu moved to Oklahoma from Washington State where he served as Superintendent.
His family never moved to Oklahoma.
NewsChannel 4 will have a crew at the meeting and let you know what happens.