This is an archived article and the information in the article may be outdated. Please look at the time stamp on the story to see when it was last updated.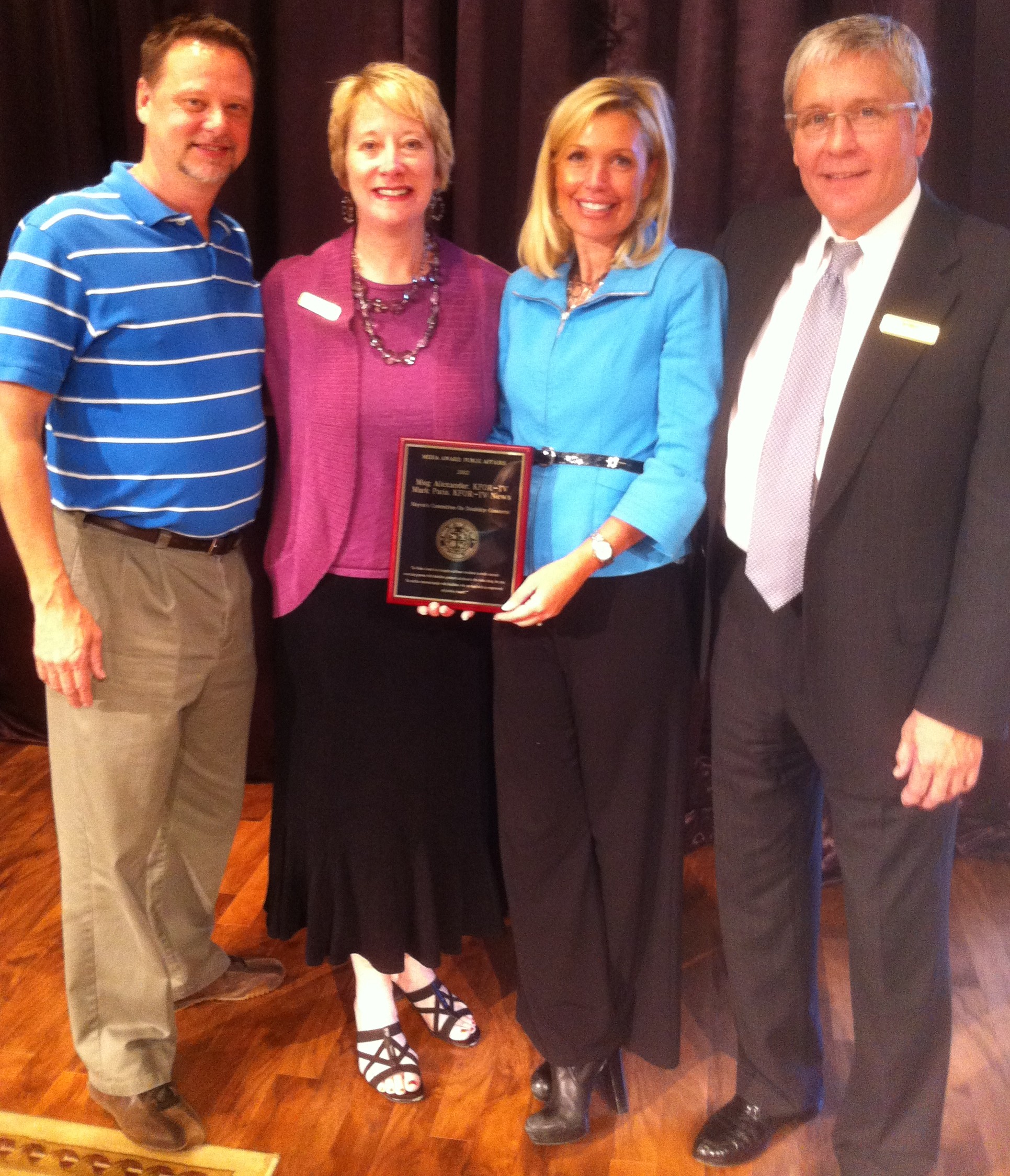 OKLAHOMA CITY — The Oklahoma City Mayor handed out a number of honors Tuesday along with his committee on Disability Concerns.
Our own Kevin Ogle emceed the event honoring those making strides for people with disabilities.
Photojournalist Mark Paris and anchor Meg Alexander received the Excellence in Media Award for their Pay It 4Ward story that highlighted the great works of a disabled Oklahoman, Shannon Wrights.   
Wrights also received an award for teaching of dance to disabled children and adults even though Wrights has impaired sight.  
Jesa Lopez, also a former Pay It 4Ward recipient and current Ms. Wheelchair Oklahoma, received the Don Davis award, the most prestigious of the event.
She said she is humbled by being honored for what she says is just living her life.  
"It's the best thing," she said. "All of that work, it's not work, it's getting to do stuff that you love, you know? How could you be any happier?"
The Oklahoma City Mayor's Committee on Disability Concerns was established in 1951.
Click here for more information on the Mayor's Committee on Disability Concerns. 
Thanks to Spirit Bank for their continued support. Without their help, our Pay It 4Ward segments would not be possible. 
2012 OKC MCDC AWARD WINNERS
1.  George Lewis Award – Shannon Wrights, Dance Teacher for Students with Disabilities
2.  Employer of the Year:  Goodwill Industries of Central Oklahoma
3.  Public Personnel Employee of the Year:  Jody Harlan, PIO Administrator, OK Dept. of Rehabilitation Services
4.  Media Public Affairs Award: Meg Alexander, Reporter, KFOR-TV News, Mark Paris, Photojournalist, KFOR-TV News
5.  Media Public Service Award:  Matt Dinger, The Oklahoman
6.  Special:  Ron Newmann, Chief Inspector – Field Division, City of OKC
7.  Special:  Candace Looper, Special Education Teacher, Moore, and Director, Special Dreams Ballet
8.  Special:  Northeast Missionary Baptist Church and Dana Greer, made 50 free orange reflective safety vests for people in wheelchairs
9.  Clearing the Path Award:  TAP Architecture and McCaleb Homes
10.  Clearing the Path Award:  Jack Mills, Golden Pond Universal Design Housing
11.  Don Davis Award:  Ms. Jesa Lopez, Miss Wheelchair Oklahoma
12.  OKC MCDC Member of the Year:  Ken Wyatt
POSTER/BILLBOARD WINNERS for 2013
1st Place – Yesenia Garcia
10th grade, US Grant High School, OKC
Teacher – Mr. Bryan Powers
2nd Place – Yazmin Moreno
9th grade, US Grant High School, OKC
Teacher – Mr. Bryan Powers
3rd Place – Maggie Mullooly
12th grade, Mount. St. Mary High School, OKC
Teacher – Ms. Kathleen A. Blake