This is an archived article and the information in the article may be outdated. Please look at the time stamp on the story to see when it was last updated.
KFOR NewsChannel 4 is recognized as a leader in electronic and digital journalism by receiving two Edward R. Murrow awards.
The RTDNA, Radio Television Digital News Association, announced the 2014 regional winners Tuesday morning.
"The Murrow Awards honor journalism at its finest," added Mike Cavender, Executive Director of RTDNA. "Local newsrooms serve their communities 365 days a year, and we're proud to recognize the great work they do."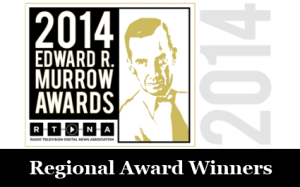 KFOR NewsChannel 4 took home the Overall Excellence for Large Market TV station honor in Region 6, which comprises Oklahoma and Texas. Watch the winning entry.
NewsChannel 4's Ali Meyer, morning news anchor and reporter along with photojournalists Joe Busch and Travis Schutten were honored in the Video Feature Reporting category, for the emotionally gripping report on May 20th, 2013 tornado survivor, Edith Morales.
"Our goal is to provide outstanding news coverage to our viewers. Winning two Edward R. Murrow Awards  is a testament to the quality journalism we produce every day at KFOR NewsChannel 4," said Wes Milbourn, President and General Manager of KFOR NewsChannel 4 and KAUT Freedom 43 TV.
"We are thrilled and humbled to be recognized for this honor.  I'm proud of the News Channel 4 team and how hard they work for our viewers every day of the year," said Carlton Houston, KFOR NewsChannel 4 News Director.
The awards recognize the best electronic journalism produced by radio, television and online news organizations around the world.