This is an archived article and the information in the article may be outdated. Please look at the time stamp on the story to see when it was last updated.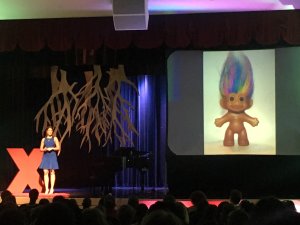 NORMAN, Okla.– They cast a line on the internet waiting for you to take the bait, Internet Trolls.
KFOR's Emily Sutton has had to deal with her fair share on Social Media over the years.
She has taken those experiences and crafted a presentation on 'Don't Feed Internet Trolls.'
You have probably heard of the TED Talks, Emily took part in the TEDxOU event in Norman. 
She used her experiences to help educate the crowd on how to handle those who sit back and just criticize or maliciously belittle others online.
Trolls do not usually rise to the level of bullying but it is close!
Emily has 7 ways to deal with them.
Wait before replying
Ignore it if possible
Kill them with kindness or humor
Stand your Ground. Sometimes you must stand firm in your online discussions in a respectful manner.
Educate! If you are an expert on a topic and someone has clearly posted inaccurate information directed at you, you should take the time to calmly educate them with a correction.
Block or Report
Empathize and learn. She learned that someone who had been trolling her and writing some tacky comments had been bullied. She understood then may more was going on with that individual and so her attitude toward that person shifted.
If everyone would be kinder online it would be a much better social interaction. In other words, if you would not say it to someone's face, don't post it online or use direct messaging to engage.
Emily challenges you to try posting something nice to someone else online, whether you know them or not, each month this year and use the hashtag #BeKind.
TEDxOU is an independently organized event to bring people together for a TED-Like experience. These events are meant to spark discussions and connections with a community.