This is an archived article and the information in the article may be outdated. Please look at the time stamp on the story to see when it was last updated.
OKLAHOMA CITY - Two people were arrested Wednesday afternoon following a high-speed chase with Oklahoma City police and a foot chase with a pawn shop customer.
Kevin Lewis Gilmore, 44, and Lucinda Marie Compton, 29, were arrested in southeast Oklahoma City after they allegedly robbed Cash America Pawn on the I-240 service road.
Donald Lee, a customer who was standing right in front of Gilmore at the store, said he wishes more people would stand up to crime.
"I've always been told that evil deeds triumph when good men do nothing," he said. "So I feel like if more people would stand up, we'd have less of it to deal with."
Wednesday Lee decided he was not going to let evil triumph.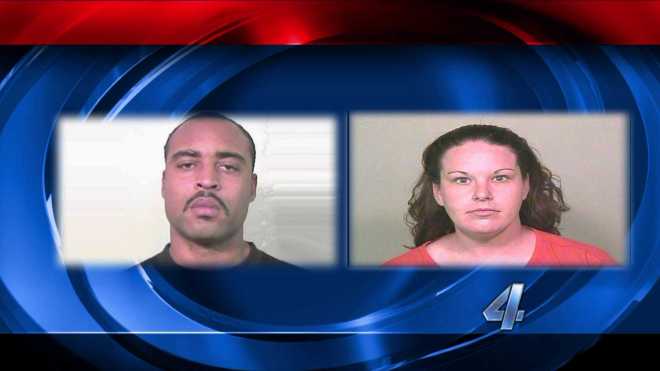 As he was standing inside the pawn shop, police said Gilmore asked a clerk to show him a gold 14-carat diamond ring, worth $2,000.

According to a police report, Gilmore "wanted to look at it, saying 'this will look pretty on her.'"
The clerk asked to see his I.D.
"He actually produced his own I.D.," Sgt. Jennifer Wardlow said. "It actually had his name and his picture on it. However, according to this clerk, it was an outdated I.D."
Wardlow said Gilmore grabbed the ring from the clerk and ran out.
Lee chased him outside but when he turned a corner, he said Gilmore pulled out a gun and pointed it at him.
"I never felt any fear," Lee said. "To me, it looked like he was afraid and I never really had the feeling that he would shoot me but I didn't want to give him the chance either."
Police said Gilmore got into a car Compton was driving.
Bob Moore Chopper 4 captured the chase as it went north on I-35, reaching speeds up to 90 miles per hour.
The police report stated Gilmore jumped out of the vehicle near S.E. 11th St. and Irving and was soon arrested by officers.
But Compton didn't give up until she drove into a dead-end in the 700 block of N. Irving.
Police always urge the public to not risk their lives by following criminals who will resort to violence to get away.
They said both suspects were arrested on grand larceny charges and Gilmore could face a charge of pointing a firearm after former conviction of a felony.