This is an archived article and the information in the article may be outdated. Please look at the time stamp on the story to see when it was last updated.
EDMOND, Okla. – A strong earthquake rocked folks out of bed early Tuesday morning.
The U.S. Geological Survey recorded a 4.3 magnitude quake around 5:40 a.m.
The epicenter struck Covell and Midwest Blvd.
About 10 minutes later, another earthquake shook Edmond. (epicenter I-35 and Covell)
According to the USGS, the second quake was a 3.4.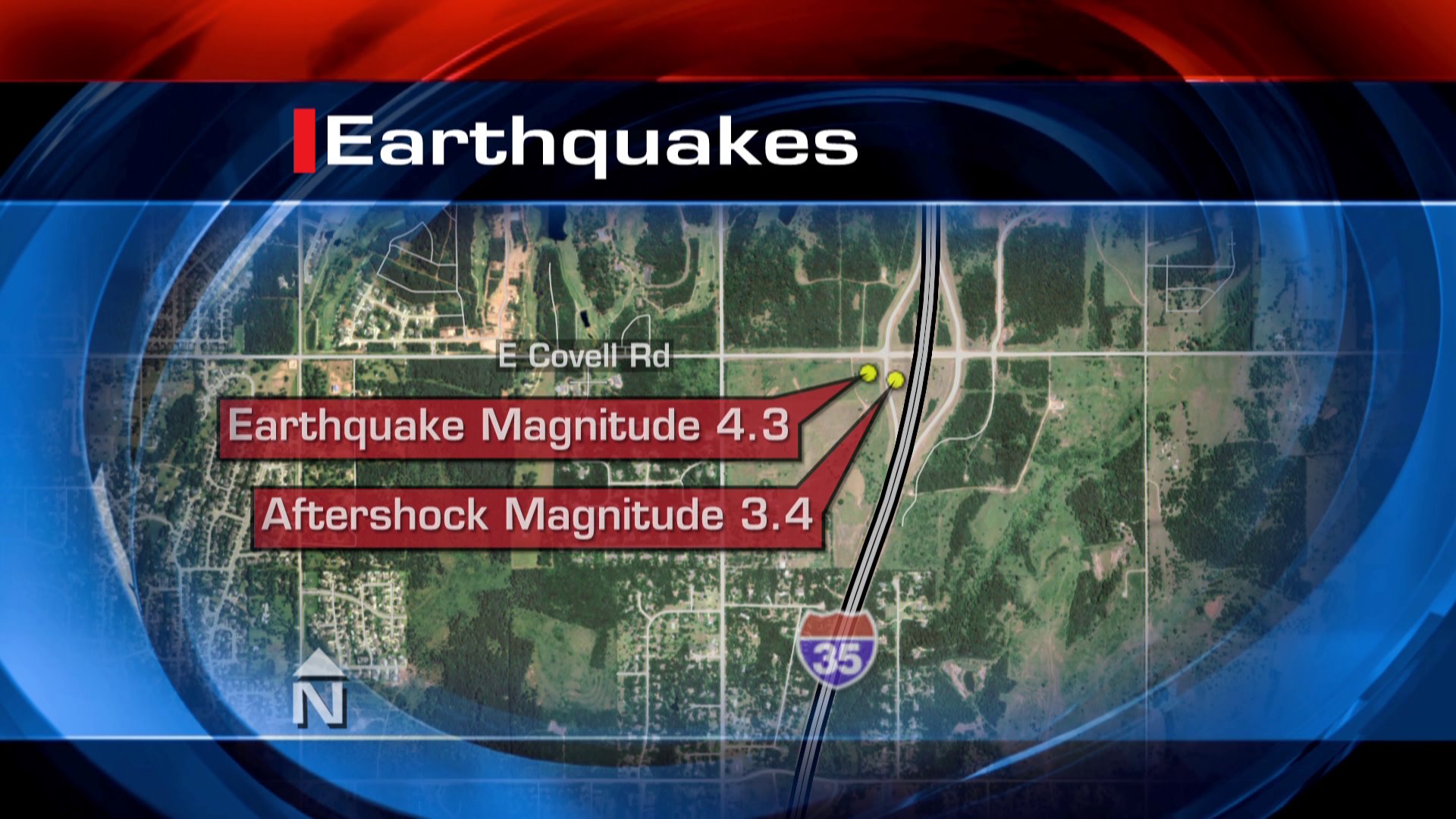 But, the shaking wasn't over!
Here are a list of the earthquakes reported throughout the day:
6:48 a.m. —Mag 2.9—28KM Nw of Fairview
12:47 p.m.—Mag 2.9—Covell and Air Depot
3:40 p.m.—Mag 3.2—I-35 between Covell and Coffee Creek
4:17 p.m.- Mag 3.0- about 2 miles NW of Langston
Officials say a section of Edmond was briefly without power due to the initial morning  earthquake.
Many Oklahomans took to social media to say they felt the quake.
EARTHQUAKE! YEAHHHHHH 5:39am @KFOR

— Emily Sutton (@emilyrsutton) December 29, 2015
@emilyrsutton @kfor that felt kinda big. Felt it in my car!

— Shuffinator (@kevinshuffield) December 29, 2015
Felt that quake on the set! Guesses to magnitude? #kfor

— Lacey Lett (@laceylett) December 29, 2015
@kfor
Big earthquake I'm in Midwest City

— Brooke (@lealou74) December 29, 2015
@emilyrsutton @kfor that was pretty big

— Josh Belcher (@TheMysticMunk) December 29, 2015
@emilyrsutton @kfor felt in Bethany

— Nikki (@nikki73644) December 29, 2015
@emilyrsutton @kfor we just felt it here in Midwest city it was a big one it shook are hole house

— Gary Light (@GaryLight3) December 29, 2015
@emilyrsutton @kfor you Did not forecast that….I was on the 🚽 how can you escape that??!! 🙃

— jamie (@mr_jamie_b) December 29, 2015
@kfor Earthquake?!

— Mark Stemen (@MarkStemen) December 29, 2015
https://twitter.com/colourflo/status/681802461938503680
@emilyrsutton @kfor felt that at Hefner & Rockwell. Big one!

— Matt Thomas (@MattThomasOKC) December 29, 2015
Who needs an alarm when you have a natural Oklahoma alarm clock. Shook me out of my bed #earthquake @kfor

— Griffin Lee (@Griffin_Lee) December 29, 2015
Biggest one I've ever felt. Woke me up out of a dead sleep, and now I'm awake at 6 am for no good reason. https://t.co/FqDxNvD0yZ

— Tara Zaloudek (@tarasuez) December 29, 2015
That's mile from my house. Knocked out electricity. Set off car alarm.stuff off shelves. 2 aftershocks https://t.co/3TW7pWD0NF

— Joey Senat (@Joey_Senat) December 29, 2015
I'm kinda pissed at this rating. Doesn't match my experience. #okquake https://t.co/CZZgwVYw4Z

— Lauren Seabrook (@goseabrook) December 29, 2015
Today in OKC, there will be earthquakes and black ice and maybe like a plague of locusts. Idk. https://t.co/9XzA1XmSPx

— ashley trattner 🖤 (@AshleyTrattner) December 29, 2015
Damage near Danforth and Douglass @kfor #okquakes pic.twitter.com/UU5RlT14yk

— Steve Johnson (@stevejkfor) December 29, 2015