This is an archived article and the information in the article may be outdated. Please look at the time stamp on the story to see when it was last updated.
OKLAHOMA CITY — A new big development is planned for far northwest Oklahoma City. It's called Chisholm Creek it's a planned 180 acre mixed-use development.
This pedestrian friendly project will be located in the heart of the Quail Springs area of northwest Oklahoma City and Edmond trade areas. This project will feature entertainment and music venues, hotel and event space, class A office facilities, a collection of restaurants and lifestyle retailers, a fitness facility, residential, running trails, and is connected to an 80 acre city park.
The site will have regional access from on/off ramps east and west from the John Kilpatrick Turnpike and local access from Pennsylvania Avenue, Western Avenue, and Memorial Road.
OKCTalk.com is reporting that there is a possibility of a Costco and another Whole Foods could be a part of this development, but this has not been confirmed.
Also, the extensions of Highland Boulevard and Pawnee Drive will directly cross the site. Chisholm Creek will be Oklahoma City's modern day trading post.
The music venue is among several facilities that will be built in this venue. This particular facility is planned to provide seating for over 2,000 people for entertainment purposes.
The music and entertainment venue will also host a soundstage, production and studio offices, and a mill shop/warehouse.
Chisholm Creek's location, combined with a dynamic mixed-use environment will make it the premiere destination for shopping, dining, and entertainment; as well as provide top quality office space and luxury residential living, according to the developers.

The retail section of Chisholm Creek will include various restaurants, small shop and high-end retailers, a farmers market, and a food truck court intertwined with walking trails that continue throughout the 180 acres and 80 acre park. Bridges crossing over creeks and streets will help to create the pedestrian friendly environment.
The development will include an office park that will consist of several multi-story office buildings as office with retail and residential below.
Chisholm Creek will have several miles of walking running and biking trails throughout the site and the adjacent park. Green areas throughout the property give pedestrians room to spread out, relax and enjoy all the amenities Chisholm Creek has to offer.
The development plans on including a medical facility. The Healthplex will include 97,000 SF four story medical office building. It is currently is 85% pre-leased and it is planned to break ground in August 2013. It will open in February 2015.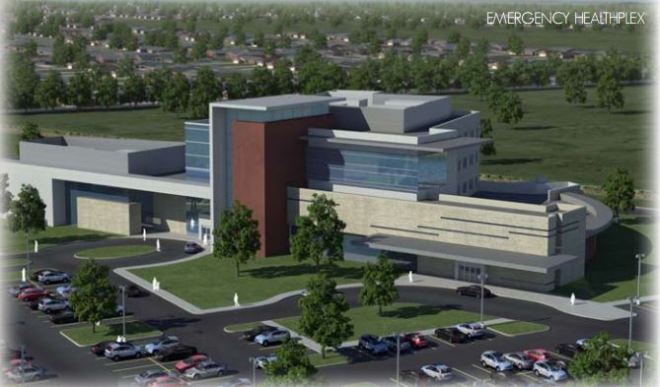 Chisholm Creek is a "mixed-use" development that is being created by a partnership made up of Medallion Management, of Oklahoma City, The Retail Endeavors Group, of Austin, Texas, and The Blue Ridge Fund, of LA, California. Combined the group has over fifty years of real estate experience and have developments in excess of a billion dollars.
More renderings of this new development: