This is an archived article and the information in the article may be outdated. Please look at the time stamp on the story to see when it was last updated.
LINCOLN COUNTY, Okla. – Authorities are searching for a man accused of killing two people, and shooting four other people including two Oklahoma police officers.
Around 6:30 p.m. Sunday, officers were called to reports of shots fired in the Wellston area in Lincoln County.
Officials say when authorities arrived to the scene, Michael Vance opened fire with an AK-47, injuring two Wellston police officers.
Fortunately, the officers' injuries are non-life-threatening.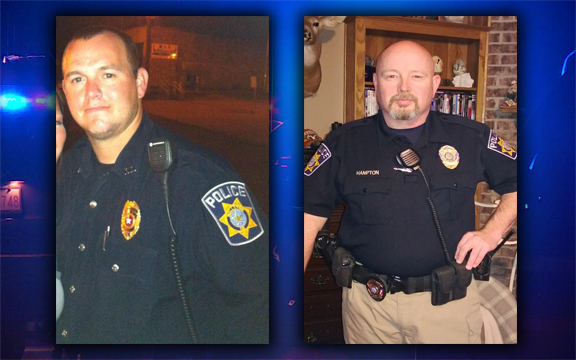 The officers have been identified as Officer Shawn Stewart and Officer Jim Hampton.
Vance allegedly stole a Wellston police vehicle left the scene.
After ditching the stolen police vehicle, Vance allegedly shot a woman after carjacking a man at a trailer park.
She also sustained non-life-threatening injuries.
That stolen car was reportedly found at Triple X Rd. and Covell, where two people were found dead Sunday night.
Around 10:45 a.m. Monday, authorities identified the victims who were killed as 55-year-old Ronald Wilkson and 54-year-old Kay Wilkson.
Vance is the Wilksons' nephew, officials say.
According to court documents, Ronald Wilkson was shot with an AK-47.
He also reportedly had a large cut on his neck that officials say is consistent with an attempt to sever his head.
Kay Wilkson suffered similar injuries, authorities say.
She also had a large cut on her shoulder area.
Police believe Vance attempted to remove her arm.
Vance then allegedly stole the Wilksons' silver 2007 Mitsubishi Eclipse with an Oklahoma license plate, 943-LQQ.
Around 2:30 a.m., a man matching Vance's description allegedly shot another man at a gas station in Sayre, Oklahoma.
Police say the suspect attempted to carjack another victim, but was unsuccessful.
The 54-year-old man injured in the shooting was transported to a local hospital where he underwent surgery.
He is currently in good condition.
Authorities are still searching for Vance.
They believe he may have returned to Oklahoma County or Lincoln County.
There is now an arrest warrant out of Oklahoma County for Vance.
He is wanted on two counts of first degree murder, unauthorized use of a motor vehicle and being in possession of firearm with prior felony conviction.
According to a wanted poster released by OHP, Vance has a medical condition and may try to spread disease.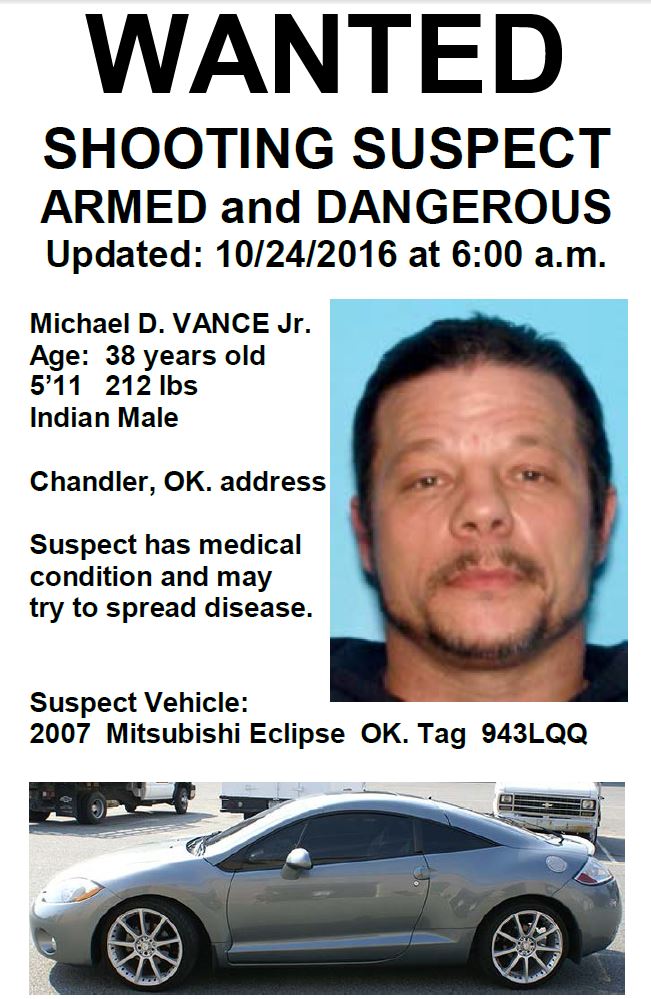 He reportedly has a "hit list" of people who all live in and around Luther.
If you know of his whereabouts, call police immediately.
Do not approach the suspect.
He is considered armed and dangerous.
Police say Vance has been shot at least twice.
He was recently released from jail after being arrested for sexually assaulting a child.
Five people are being detained in connection to the original shots fire call. They are considered persons of interest.
*BOLO* Lincoln Co. Shooting suspect Michael Vance – driving 2007 Gray Mitsubishi Eclipse 943LQQ If seen call 9-1-1.

— Oklahoma Co. Sheriff (@OkCountySheriff) October 24, 2016