This is an archived article and the information in the article may be outdated. Please look at the time stamp on the story to see when it was last updated.
OKLAHOMA CITY – Oklahomans are the stars of a special movie made right here in the Sooner state. Minco natives and brothers, Lucas and Marcus Ross wrote, directed and produced LAZY CIRCLES, a movie about a cast of characters from the fictional town of Goshe, Oklahoma.
The movie premieres Tuesday, April 17, at the Tower Theatre on NW 23rd street in OKC. The public is invited to attend. The fun starts at 6:00 p.m. outside the Tower Theatre and the screening begins at 7:00 p.m. in the upper viewing deck of the Tower Theatre.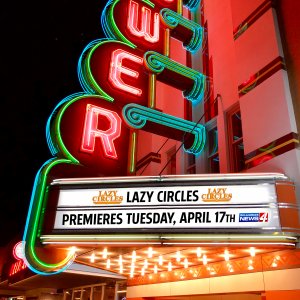 "We wanted to make a movie that was a bear hug to Oklahoma and funny," said Lucas Ross. "Marcus and I have been hanging out together most of our lives and this is the first time we actually performed together."
One of the main characters in the movie is named Nadienne Chitwood, played by Lucas. He says she is quite a character.
"Nadienne is the town mom, a busy body and she causes more problems than she solves. People love her, but she has a secret that everybody knows about," said Lucas.
The cast features Oklahomans, including narration by OU coaching legend, Barry Switzer. There is also a special cameo appearance by a cast member of Star Trek: Voyager.
Click here to view the trailer for LAZY CIRCLES.