This is an archived article and the information in the article may be outdated. Please look at the time stamp on the story to see when it was last updated.
Monty Hall, the iconic host and co-creator of 'Let's Make a Deal' has died, according to the New York Times.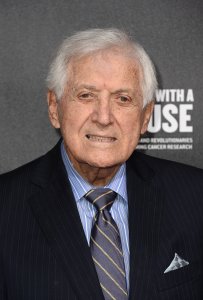 The New York Times reports his daughter, Joanna Gleason, confirmed Hall died of heart failure at his home in Beverly Hills, California, Saturday.
Hall was born in Canada on August 25, 1921.
'Let's Make a Deal' premiered in late 1963 and has been a hit ever since.
Bob Hilton became host of the show in 1990 with Billy Bush taking over in 2003.
In 2009, Wayne Brady took the title and has remained as the host.
"He's making it his show," Hall said of Brady in a 2013 interview. "He's learning the star of the show is the contestant and to make them feel at home, make them feel like they came to your party."
Hall was 96 years old.