This is an archived article and the information in the article may be outdated. Please look at the time stamp on the story to see when it was last updated.
WASHINGTON – The Lincoln Memorial has been reopened Friday afternoon after it was vandalized overnight.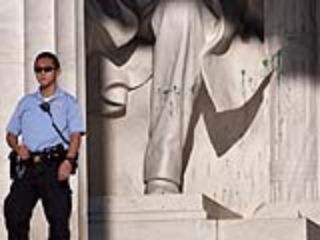 Officials said they discovered the damage at about 1:30 a.m.
A visitor to the memorial spotted green pain splashed on the foot and base of the statue.
Park police said the chamber of the memorial remained closed while they cleaned the statue.
Currently, investigators are reviewing surveillance video for clues.