This is an archived article and the information in the article may be outdated. Please look at the time stamp on the story to see when it was last updated.
OKLAHOMA CITY – A local organization is getting ready to host the 29th Annual Asian Festival.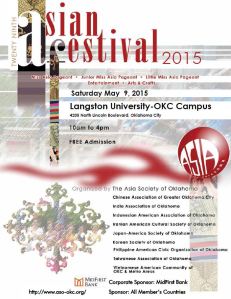 The Asian Society of Oklahoma says the event will include performances from eight Asian cultures.
It will also include Indian food, art exhibitions, as well as crafts and activities.
"The Asian Festival provides great opportunity for Asian people in Oklahoma to display their cultures for the entire community to enjoy," Ira S. Burrough said in a press release. "We encourage Oklahomans of all backgrounds to witness the incredible colors, choreography, artwork and music of the Asian cultures."
The event takes place Saturday, May 9, 2015 from 10 a.m. to 4 p.m. at the Langston University – OKC Campus.
Don't worry about admission fees because this event is FREE!
[protected-iframe id="21c3f5b1b3420ece479a20e1805a0132-29519643-62065474″ info="https://www.google.com/maps/embed?pb=!1m14!1m8!1m3!1d3247.573657752639!2d-97.505899!3d35.514818999999996!3m2!1i1024!2i768!4f13.1!3m3!1m2!1s0x0%3A0xe43d17d44b3aeb85!2sLangston+University!5e0!3m2!1sen!2sus!4v1430407916774″ width="600″ height="450″ frameborder="0″ style="border:0″]