This is an archived article and the information in the article may be outdated. Please look at the time stamp on the story to see when it was last updated.
CLEVELAND CO., Okla. – The Cleveland County Sheriff's Office has arrested a man facing four counts of child sex crimes after issuing a warrant for his arrest last Friday.
Lawrence McEwen, 28, was booked into the Cleveland County Jail Thursday afternoon on three charges of lewd molestation and indecent proposal to a child and one charge of performing lewd acts in the presence of a minor.
There is no information at this time on the details of his arrest.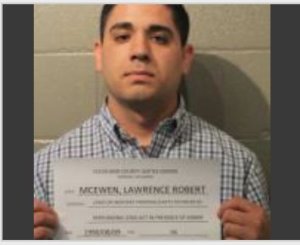 According to court records, the mother of a teenage boy went to Blanchard police, telling them that her son had been treated inappropriately by McEwen for close to five months: "He had been touched twice by the defendant for a hernia check and then convinced to do a project involving a sexual device."
The affidavit goes on to say the boy told police he was video recorded while using the sexual device.