This is an archived article and the information in the article may be outdated. Please look at the time stamp on the story to see when it was last updated.

NORMAN, Okla. – By law we're required to renew our driver's license and in order to do so, we must comply with a few procedures like taking a picture or giving our fingerprint.
One woman has refused these things and filed a lawsuit because she said it violates her religious rights.
Think of Tom Cruise's 2002 movie Minority Report, where Cruise's character undergoes an eye replacement to avoid be detected by the city's optical recognition system.
The local woman said she believes our government is using a similar facial recognition system.
She said it's already being implemented with high-resolution pictures and measurements taken when you get your driver's license picture and provide your fingerprint. 
Norman resident Kaye Beach remembers the day she first realized this when asked to submit her fingerprint.
She said, "'Do I have to do this,' and they said, 'Or you can't have the driver's license.'"
That was in the mid-2000s.
She complied but spent the next several years researching what she said she believes is the beginning stages of the mark of the beast.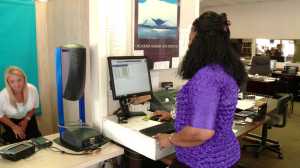 The next time her license was up for renewal she had a different reaction.
"My license came up for renewal in 2011 and I literally sat there and said, 'I can't do it,'" she said.
She now has no valid driver's license, a small sacrifice she says to uphold her religious freedoms.
"The bottom line for me as a Christian was that I believe that the Bible clearly warns us against being enrolled in a global system of identification and financial control that ties to our bodies," Beach said.
Beach said she believes that eventually our government's database of everyone's personal information will be hacked, identity theft will be rampant and that our ID cards will one day be replaced with implanted chips or tattoos containing our personal information.
Attorney David Slane looked over her case for us.
"At first you get the impression that she's really out there," Slane said. "As you take a look at the lawsuit itself, her lawyers have been very crafty in Constitutional claim of her religious objection and I think the courts may take a closer look at it."
She said the lawsuit is to protect her rights, citing a violation of religious freedoms and unwarranted searches and seizures.
Beach said,"I hope a favorable ruling for me will set the stage for other people to have their rights protected, too."
Linda Cavanaugh set down with our legal expert, Robert McCampbell. He says there may not be much of a case here and that the lawsuit will certainly have an uphill battle.

Check back to kfor.com and watch News Channel 4 for new information on this story.