This is an archived article and the information in the article may be outdated. Please look at the time stamp on the story to see when it was last updated.
LUBBOCK, Texas – A teen is dead after a game of hide-and-seek at Texas Tech University.
The 14-year-old Miguel Leseburg was running by a statue of a steer on campus when he tripped and accidentally impaled himself in the chest with one of the steer's horns.
The teen's mother, Judith, was out of town when she got the call early Saturday morning.
"They didn't want to let me come right away because the condition I was in when I found out where it almost caused me to have a stroke," she said.
The accident is easily a mother's worst nightmare.
"It's hard for all of us," she said. "It's very hard. No mother expects this to happen to their child. No mother."
Miguel had been staying with his best friend, Jeremy.
Officials said Jeremy's family and Miguel went for a walk at about 3 a.m.
That walk ended with a fatal game of hide-and-seek.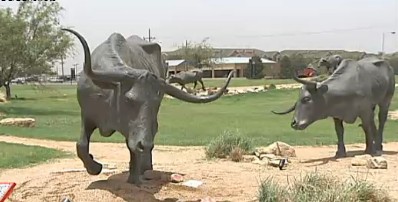 "He happened to trip over one of the lights I guess and he lost his balance and he went straight into the bull's horn," Jeremy said.
It was a sight his friends said they will never forget.
"I sat there and laid beside him," Jeremy said. "I put my jacket over him and he was lying down and I just held him tight and told him I loved him."
That moment forever changed Judith and her family.
She said, "Everyday I'm hoping for him to come around the corner and say, 'Mom, why are you crying? I'm right here.'"
But she said she knows in her heart Miguel is not coming back.
She said one of the few things bringing her comfort is seeing all the people who have come to support her son. 
"It's a blessing, blessing to all of us," Judith said. "Especially me because I know Miguel had a lot of friends who looked up to him."
As people promise to never forget her loving son, Judith and her family have let go of the anger and moved toward raising money to lay her son to rest.
"As he came into this world I tried to give him the best I could, a mother of nine," Judith said. "Now I want him to have the best going out."