This is an archived article and the information in the article may be outdated. Please look at the time stamp on the story to see when it was last updated.
UPDATED 7:00 p.m.: Authorities now say there was only one car involved in the accident.
OKLAHOMA CITY – Oklahoma City Police responded to a vehicle accident located at the corner of Memorial and Meridian Ave.
Officers got the call Sunday evening.
When they arrived, they witnessed something they didn't expect.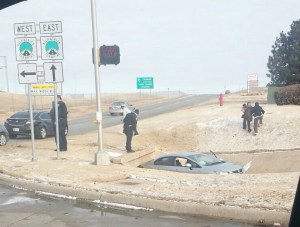 After authorities responded, they were able to get the vehicle out of the ditch with the assistance of a tow truck.
According to Sgt. Billy Payne, there were no injuries in this accident.
Authorities are still not how the driver ended up in the ditch.