This is an archived article and the information in the article may be outdated. Please look at the time stamp on the story to see when it was last updated.
SHAWNEE, Okla. — The buzz of chain saws is a welcome symphony in Pottawatomie County Monday, the day after a deadly tornado ripped through Shawnee.
Lance Carter weathered the storm in his neighbors basement.
When he emerged, his home and five acre property of 17 years were almost unrecognizable.
He is still shell-shocked.
"I'm walking around in a daze. I don't know what to do. I go to do one thing then somebody asks me about something else." said Carter.
The tornado that his Carter's home ripped across Highway 177 in northwest Shawnee.
Carter's property took a direct hit.
Storm chaser, Brandon Heiden, shot video of the storm as it pummelled Carter's home.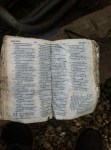 Heiden stopped for a moment to make sure everyone was ok, and found a Bible in the debris.
He shot this picture, and hoped the owner would be re-united with the good book again someday.
Meanwhile, Gage Ross, a friend of the Carter family came by the property to help with the clean-up effort.

Ross stumbled across that same family Bible; it was still open to the very same page, Isiah chapter 32 which reads, "A man will be as a hiding place from the wind, and a cover from the tempest."
"The Lord must be with us, I guess." Ross remembers.
There's no telling where the Bible came from.
Afterall, some of the storm debris littering the Carters' property came from miles away.
The tornado was strong enough to topple a giant oak, rip the barn to shreds, and leave family and friend climbing in nearby limbs to fish for pieces of salvageable clothing.
Michael Alexander and his fiancé Shelia Spurlin lived in a trailer behind Carter's property.
Their trailer was decimated by the twister.
"I got out here after it passed, and I just fell to my knees. It's all I could do." said Alexander. "Everything that I owned, everything we owned was in the trailer."
Alexander and Spurlin rode out the storm a mile away.
Their Bible, it turns out, didn't go quite that far.
The Bible only made it about 100 feet from home.
The Word, is now back with its weary owners, thanks to the kindness of two strangers.