This is an archived article and the information in the article may be outdated. Please look at the time stamp on the story to see when it was last updated.
OKLAHOMA CITY - It was a tough way to start the week for many workers at an Oklahoma department.
On Monday, workers at the Oklahoma Tax Commission arrived at their office to find raw sewage in the building's lower floor.
"The more you walk downstairs, definitely, we work on the third floor so it wasn't as bad. But when you go downstairs, it was horrible. It looks like a mass exodus right now. I'm surprised they are not sprinting!" Renee Lowe said.
Security officers say the sewage is "several inches deep" in spots.
NewsChannel 4 crews saw workers wearing rubber boots going to the lower floors.
The lower floors were evacuated at first, which houses the research and IT departments.
"They are trying everything they can to fix the problem but they just aren't sure. With that many employees and the loss of bathrooms, it just becomes difficult to keep going," Paula Ross, the department's spokesperson, said.
If the smell wasn't bad enough, all 14 public restrooms were out of order.
Employees were given the option to use other government buildings on the campus.
"We were working and they started telling us we could not use the basement restroom. A few minutes later, they said all of the restrooms were shut so we had to walk around campus and find another restroom to use," Lowe said.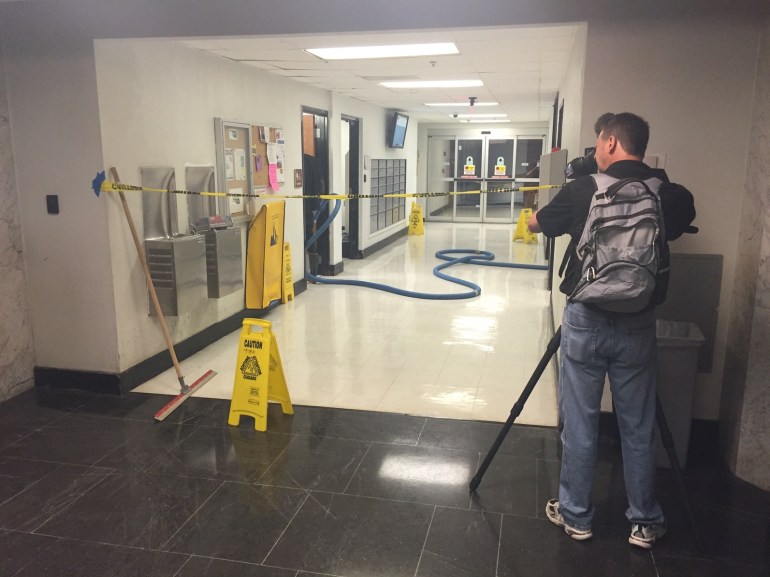 Eventually, the entire building closed just before 12 p.m.
Officials with the Tax Commission say the Conner Building was closing due to plumbing issues and a lack of water.
Crews are busy trying to locate the cause of the mystery leak and sterilize the building's lower floors.
"It's an older building and we've got quite a few people down there working and not sure what the issue was. We haven't had big rain, so we are not really sure," Ross said.
However, they say they expect to open Tuesday for regular business.
Taxpayers can still conduct their transactions at another building, located at 409 N.E. 28th St.
Online services are also available.