This is an archived article and the information in the article may be outdated. Please look at the time stamp on the story to see when it was last updated.
MOORE, Okla. – The hearing for an Oklahoma man accused of beheading a co-worker and attacking another person at a food processing plant has been continued.
Alton Nolen tried to plead guilty in February, but Judge Lori Walkley wouldn't accept the plea and instead scheduled the hearing for Friday.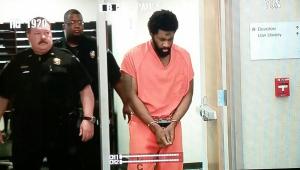 Nolen's attorney had raised questions about his client's mental competency; however, Walkley found Nolen fit to stand trial.
During the hearing Friday, the judge said she wanted a psychologist to re-evaluate Nolen's mental state.
The judge wants to make sure Nolen understands his plea.
Investigators say Nolen had just been suspended from his job at the Vaughan Foods plant in Moore when he walked into the company's administrative office and attacked 54-year-old Colleen Hufford, severing her head.
They say he also stabbed another co-worker, Traci Johnson, who survived, before a company executive shot and wounded him.
His hearing was continued until August 12th.
That is when the judge will rule if Nolen knowingly and voluntarily pleaded guilty.
If the judge rules he did not, competency proceedings may begin again.