This is an archived article and the information in the article may be outdated. Please look at the time stamp on the story to see when it was last updated.
OKLAHOMA CITY – The man accused of destroying the Ten Commandments monument at the Oklahoma State Capitol is talking about what led up to the alleged crime.
In a letter sent to the Tulsa World, 29-year-old Michael Tate Reed describes his mental health descent into psychosis, his actions leading to that moment, and his road to recovery.
According to the Tulsa World, in the letter, Reed says that his psychotic breaks led to getting inspiration from a Dracula movie, thinking Michael Jackson's spirit was in meat, believing he was the incarnation of an occult leader and attempting to contact Lucifer's high priestess he called Gwyneth Paltrow.
"I was hesitant on writing this, but I think it would be a good way to share with others what happened to me back in October," he wrote to the Tulsa World.
In October 2014, Reed rammed his car into the Ten Commandments monument at the Capitol.  The granite monument was destroyed in the crash.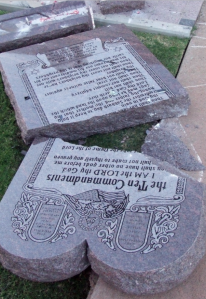 While Reed left the scene of the crash, authorities say he walked to the federal building and began making threats to officials.
Agents with the U.S. Secret Service say Reed walked into the building and started making strange threats against the president and the federal government.
Reed allegedly told agents with the Secret Service that Satan made him crash his car into the statue.
He also told agents that the devil told him to urinate on the monument.
According to the Oklahoma Highway Patrol, Reed was charged with destruction of state property or improvements, indecent exposure, making threatening statements, reckless driving and operating a vehicle with a revoked license.
According to the Tulsa World, Reed is diagnosed with schizoaffective disorder.  He was released from Norman's Griffin Memorial Hospital in January.
In the letter he sent to the Tulsa World, Reed apologizes for his actions.
"I am so sorry that this all happening (sic) and wished I could take it all back," Reed said.
Reed says he believes his mental health started to decline while he was a student at Victory Bible College in Tulsa.
He says that is when he starting having dreams where Satan would attack him.
Reed eventually dropped out of school, but says he continued to hear voices.
One day, Reed says he started hallucinating while he was driving.
"The voice had told me if I didn't stop the cars, people would die. The voice told me the cars were all carrying meat that was infected with the spirit of Michael Jackson and it was a killer virus," he wrote.
Reed crashed his vehicle and was arrested and held in jail on drug charges for 10 days, according to the Tulsa World.
Reed was admitted to a mental health facility multiple times after dropping out of school.
After he was released, Reed says he tried to stay stable by taking medication, but it was expensive and he could no longer afford it.
The voices started again once he got his own apartment.
"Upon moving into my apartment, I started to hear that Satan was the real God, and God the Father was a cruel god because he visits the sins of the father on the sons," he told the Tulsa World. "At the time, I didn't have a grasp on why he does that, so with that verse, Satan had me hooked into his lie. It took three days, and I was all for this Satan being god thing. Even after growing up with God and reading the Bible, nothing was there to keep me from believing this lie."
Reed's family insists that crashing into the Ten Commandments monument was not a religious or political statement.
"I am a born-again Christian who speaks in tongues, and I Love God, Jesus and the Holy Spirit. I love going to church, and I love reading the Bible. Anyone who knows me knows this is true. I want to share with lost people that God's love is real," Reed wrote.
Reed says around the time of the Ten Commandments incident, the voices were in overdrive.
When Reed couldn't find his keys, he blamed it on an angel, according to the Tulsa World.
Before crashing into the monument, Reed believed Satan was waiting for him.
"I thought it was the church of Satan awaiting me so I made a gesture of (Crowley's) to identify myself," he wrote. "I left and kept thinking I would be taking (sic) up in a UFO and given a new body."
After he was arrested for crashing into the monument, Reed says he had a moment of clarity.
"When they left me by myself, a voice I knew wasn't evil spoke to me, and all it said was 'Satan is a Liar.' As soon as I heard it, the delusions left, and I set there crying and shocked that this went this far and I was powerless to stop it," Reed told the Tulsa World.
Although he's been released from Norman's Griffin Memorial Hospital, he continues to receive treatment, therapy and family support.
According to the Tulsa World, doctors have found Reed a combination of medications he can afford.
He says now he has "visions" or "daydreams" about God showing him a future preaching.
He says he continues to attend church on a regular basis.
Read more about what Reed had to say about his mental illness at the Tulsa World.