This is an archived article and the information in the article may be outdated. Please look at the time stamp on the story to see when it was last updated.

POTTAWATOMIE COUNTY, Okla. – Thursday was judgment day for an Oklahoma man accused in a gruesome murder. A Pottawatomie County judge formally sentenced Glendon Gouker to life in prison for killing a man and torturing his girlfriend in Sept. 2010.
Walking into court, Kathleen Kline wore her son`s picture over her heart.
"Ethan. A goofball an absolute goofball. He enjoyed life., hard working," said Kline.
Inside she faced the man who pleaded guilty to murdering him, Gouker.

"This is the second most difficult thing I've ever had to do in my life," said Kline. "The first one was my son's funeral."
19-year-old Ethan Walton was murdered inside a Prague house. Gouker pleaded guilty to killing him and stuffing his body in a barrel. He also said he was guilty of kidnapping and raping Walton's girlfriend.
She was able to get away and find help at a neighbor's home. Gouker's sister, who is also his wife, pleaded guilty to helping him.
Gouker had nothing to say as Sheriff's Deputies led him into court, but he did break his silence in the courtroom.
He told the judge he hopes the victims' families find peace.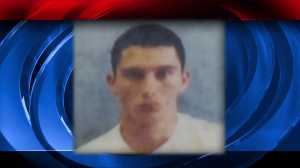 "He made a statement that seemed very false. It seemed without feeling, without emotion. I don't think he's remorseful," said District Attorney Richard Smotherman.
Smotherman says the family wanted the death penalty but agreed to accept the life without parole plea deal so that Gouker could cooperate with Wisconsin detectives.
The Waupaca County Sheriff Brad Hardel says Gouker already pleaded guilty to a 1990 rape and is a person of interest in a double homicide.
"There are other families out there that deserve to know Gouker is not going to be able to get to them anymore," said Kline.
Still, she says nothing can bring Ethan back.
Gouker is also accused of kidnapping and raping Walker's girlfriend before she escaped to a neighbor's house nearby.
He could now face a life sentence.