This is an archived article and the information in the article may be outdated. Please look at the time stamp on the story to see when it was last updated.
BETHANY, Okla. - A 33-year-old man from Bethany is behind bars after officials said he started two separate fires Monday overnight.
The first fire was at a thrift store at N.W. 23rd and College near N. Rockwell Ave.; the second fire was less than half a mile away at a house on the 6700 block of N.W. 31st St.
Officials said they are investigating both fires as arson.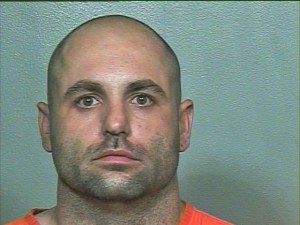 Police said 33-year-old Kristafer Sanderson, is responsible for sparking the flames.
While officials were on scene of the fire at a thrift store on N.W. 23rd and College, Sanderson approached the officers.
"Did tell the officer that he did set the fire at the thrift store and to 'Please let it burn and let the fire finish,'" Bethany Police Deputy Chief John Reid said.
They arrested Sanderson and he then admitted to a second fire jus

Officials raced down N. College to N.W. 31st St. where they found a second fire in Sanderson's house where he lived with his girlfriend and kids.t down the road.
"It was frightening," Perkins said.
Jerry Paul Perkins, lives just one house from where the blaze took place.
He said he is shocked to hear police say his neighbor is the person responsible.
"I've seen him go up and down the streets here and I waved at him but I didn't know him personally," Perkins said.
Back at the thrift shop, run by Liberty Ministries, workers are surprised but keeping a positive attitude.
"We don't get our joy from temporary things, everything is temporary, our joy comes from God," ministry director Paul Speir said.
The plan is to rebuild in the same spot to continue to serve the public.
"It's going to be a lot of hard work, it's going to be a long process," Speir said.
Additional work that could have been prevented, leaving all to ask of why the fires were started in the first place.
Sanderson faces charges of arson, attempted burglary and concealing stolen property.
The Liberty Ministries Thrift Store is looking for volunteers to help re-build the shop.
To help, visit libertyministriesokc.org.